Game:
Hogwarts Legacy
Content Type:
Gaming News
Date: August 23, 2022
During the Gamescom 2022 Opening Night, a new trailer for Hogwarts Legacy was revealed. This new trailer doesn't show any new gameplay footage, but rather focuses on one of the Companion options, Sebastian Sallow, and a choice you will have to make should you befriend him. We also get a look at the contents of the Digital Deluxe Edition, which confirms what we found out in previous leaks.
From what we are shown in the video, a large part of Sallow's Companion quest line will involve Dark Magic and investigating Salazar Slytherin. A professor warns against the use of Dark Magic, explaining that Unforgivable Curses got their name for a reason. Sallow ignores this advice and learns the spell Crucio — he then offers to teach it to the player as well.
We can then see what are likely the consequences of casting this spell, as the undead begin attacking both Sallow and the player. We will have to wait for the full game to see if using this spell will help Sallow uncover his family's mystery. This showcase gives us a look at what kind of effect a Companion can have on the player — learning Dark Magic, for example, certainly seems to have an impact on your gameplay, and potentially your school life as well.
Finally, we got to see what players will get if they pre-order the Digital Deluxe Edition of Hogwarts Legacy: the Onyx Hippogriff Mount and the Dark Arts Garrison Hat, which we got a chance to see in the game.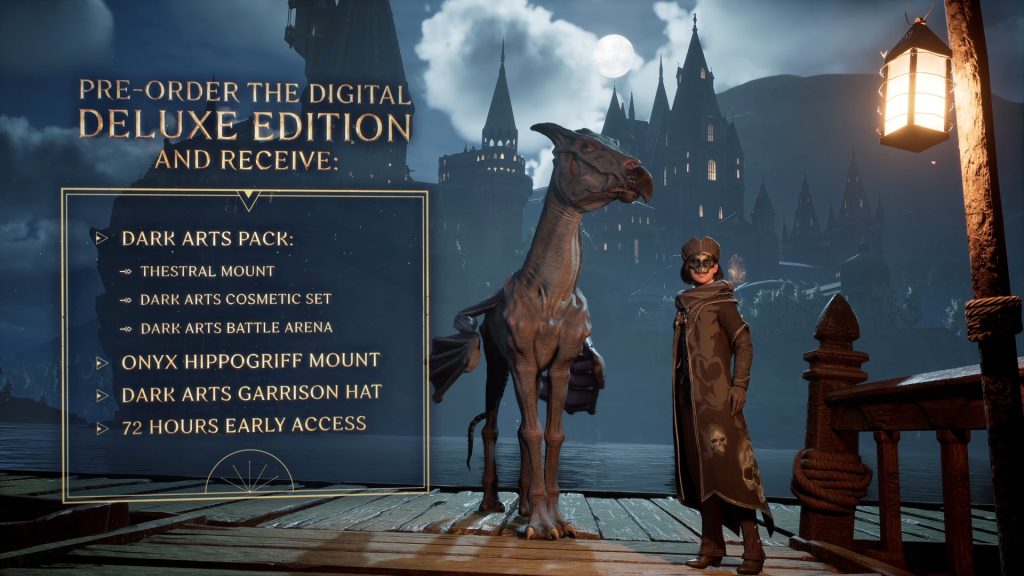 After a brief delay, Hogwarts Legacy is slated to release on February 10, 2023, for all systems besides the Switch — that one will be announced at a later date. As we get closer to release, we can expect to see more news coming out for the game: this will probably include more of the Companions and what kind of stories they have to tell.