Game:
Cyberpunk 2077
Content Type:
Gaming Guides
In Cyberpunk 2077, your class is your skills. There is no fixed archetype you have to follow, so you will be the one to choose how to distribute your Attribute Points and Perk Points and what Skills to focus on leveling. While the system is open, it's still important to do some planning since your choices will significantly affect your experience with the game. This guide will focus on the Character Perks in Cyberpunk 2077, how you earn additional points, what Perks you can invest them into, and what enhancements some Perks provide over overs.
The Cyberpunk 2077 character perks upgrade the following skills:
Handguns, Blades, Assault (Reflexes)
Crafting, Engineering (Technical Ability)
Breach Protocol, Quickhacking (Intelligence)
Athletics, Annihilation, Street Brawler (Body)
Ninjutsu, Cold Blood (Cool)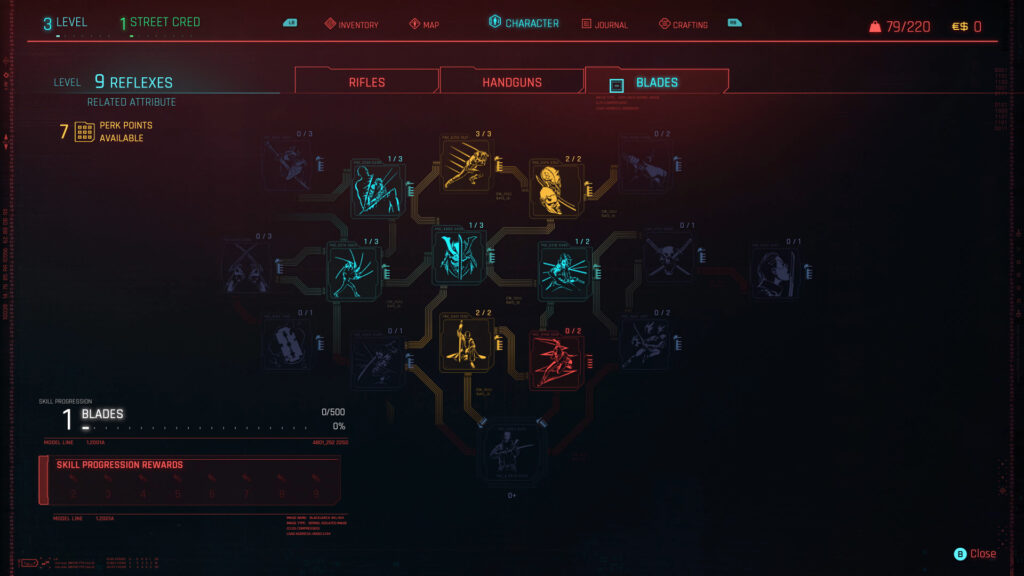 (See our Skills Guide for more information on these Skills).
Perk points modify and significantly enhance your character's Skills. Skill Perks improve your battlefield control, the way you handle different types of weapons, and how you escape particularly tricky situations. Your character can earn Perk points by leveling both their Street Cred and Level XP through completion of the faction missions and other quests. The total number of unlockable Perks has increased significantly since early versions, now offering about 20-30 perk options per Skill, with more than 12 Skills in the system, all modified by 5 Attributes.
While several perks will be available to you under each Skill type, you will run into a wall with many of the perks requiring a higher Attribute level to be unlocked. So, working on your character Level is still very important to progressing your character. Skill Progression Rewards will provide the majority of your Perk Points and complement your Perk Bonuses, so don't forget about leveling your Skills in the field!
With that being said, let's go through each of the Perk lists individually.
The Perk Guide has been updated with Patch 1.5 changes.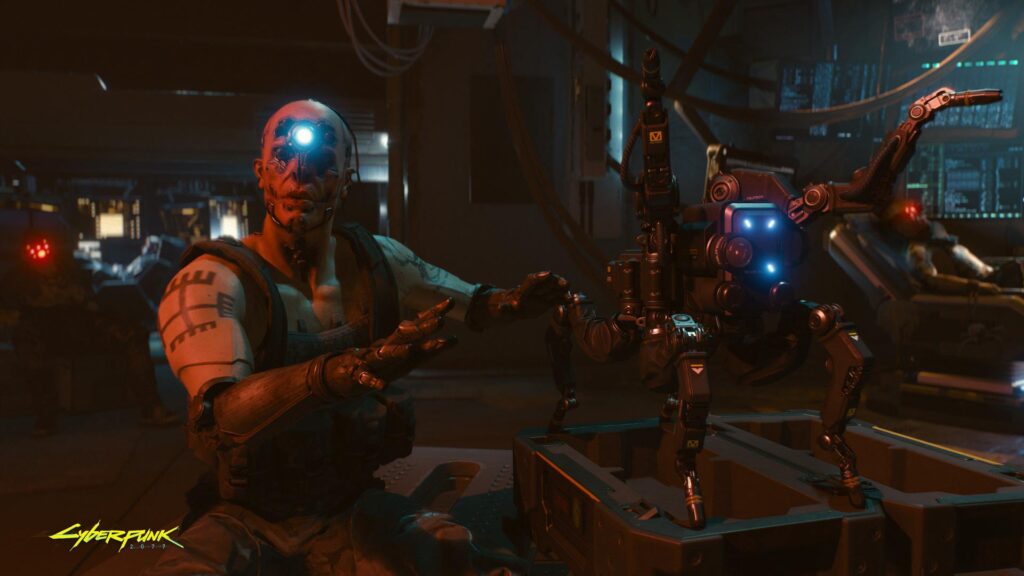 (Click here for the guide to your Cyberpunk 2077 character.)
Tips and Overview
Watch out for some powerful Combos, for example with the apartment buffs. Showering comes with the Refreshed buff, which gives you health regeneration during combat — if you have Regeneration Perk, that rate will increase by 20%. Of course, this combination will only last for an hour, so make sure to stop by your apartment every so often!
Be mindful of the Crafting's Scrapper Perk (automatically disassembles junk). Some "junk" items are very valuable early on in the game, but give the same number of resources when dismantled.
Our Favorite Perks
Blades

Bloodlust and especially so Deathbolt will increase your survivalibility and maneuverability in combat when using Blades. These Perks will also make the skill itself more efficient to level.
Judge, Jury and Executioner is a great Perk for doubling your DPS with the first hit on an enemy (at level 3) and for working towards one-hit kills.

Cold Blood

Cold Blood Perk is your gateway to a mostly self-leveling skill. Aside from a couple passive bonuses it's also an investment that will pay itself off if you just have level 4 in the Attribute.
Do you have specific Perks that you have tested out and found to be extremely powerful and/or useful for your build? Want to help us make this guide even more helpful? Please let us know in the comments!
We would really appreciate extra details in your description and will gladly include your suggestions in our guide after testing them out ourselves.
Reflexes Attribute
Handguns
Effects summary by type:
Pistols and Revolvers:

Improves/adds reload time, crit chance, crit damage, headshot damage, draw/holster time, damage on distance, evasion after dodge, recoil, damage to <25% HP enemies, damage to limbs, damage from last round, damage penalty from distance, consecutive shot damage, fully modded damage, fire rate after defeating a target, crit chance after headshot, damage and armor after crit hit.
Unlocks dodging while aiming, shooting while dodging.
Assault
Effects summary by type:
Rifles and Submachine Guns:

Improves/adds damage, ADS (aim down sight), damage while aiming, quick melee attacks, damage to >50% enemies, crit chance when in cover, reload time after defeating a target, damage to moving enemies, reload time, recoil when in cover, headshot damage, damage when in cover, recoil after headshot, crit damage, recoil, armor and resistances when in cover, bullet ricochet, damage from distance, damage when still, weapon sway and spread after defeating a target.
Blades
Effects summary by type:
Blades:

Improves/adds attack speed, strong attacks damage, stamina cost of attacks, defensive attacks damage, health and stamina restored with counterattacks, crit chance, damage when dodging, proportional damage to wounded enemies, damage to full-HP enemies, movement speed and HP restored after defeating a target, crit damage.
Bleeding Status: [Bleeding slowly depletes Health, disables sprinting and reduces jump height]

Combos with Blades can inflict Bleeding, Bleeding duration increased, recover health from applying Bleeding or attacking Bleeding target, allows stacking.

Movement and Dodging:

Increases armor while moving, stamina recover during dodging.
Intelligence Attribute
Breach Protocol
Effects summary by type:
Breach Protocol:

Specific Daemons (all daemon debuffs are temporary effects):

Big Sleep: disable all cameras, Mass Vulnerability: reduce Physical Resistance for all enemies (later upgrade increases quickhack damage), Turret Shutdown: disables turrets, Turret Tamer: turrets become friendly.
Increases the amount of currency obtained from Datamining Access Points, increases amount of components obtained, increases the chance to acquire a quickhack.
ICEpick reduces RAM costs further.

Breach Protocol Effectiveness:

Increases the breach time, automatically highlights Access Points, automatically uploads the first daemon, increases the duration of daemon effects.
Uploading 3+ daemons at once increases cyberdeck RAM recovery temporarily, shortens quickhack cooldowns.
Reduces RAM cost of the next quickhack proportional to the number of daemons uploaded.
Reduces lengths of sequences, shortest length is 2.
Quickhacking
Effects summary by type:
Quickhacking:

Quickhacks and RAM:

Improves/adds RAM recovery during combat, quickhack damage, quickhack duration, RAM cost for device quickhacks, damage for stealth quickhacking, quickhack spread distance, cost of quickhacks against an enemy already affected by quickhacks, extra targets for spread quickhacks, overall RAM cost, overall RAM recovery rate.
Adds Crit Hits functionality to quickhacks based on your Crit Chance and Damage.
RAM never drops below 2.

Attacking Quckhacked Enemies:

Eliminating a target affected by a quickhack recovers RAM, reduces existing cooldowns.

Quickhack Crafting:

Unlocks Crafting Specs for Uncommon, Rare, Epic, and Legendary quickhacks.

Netrunner Defense:

Reveals an enemy netrunner trying to hack you.
Strategy
Unlocking additional daemons to deploy will enhance your hacking abilities in the field. This will unlock additional hacks you can create or buy off of black market vendors. Your Cyberdeck can hold up to four daemons, limited by its power. You will need to prepare your software ahead of the mission. Some examples are programs that disable cybernetic eyes or a limb, forces them to shoot themselves in the head or to fire their own grenade.
Body Attribute
Athletics
Effects summary by type:
Health and Stamina:

Improves/adds Health regen during combat, max Health, max Stamina, health regen outside of combat, amount of stamina consumed when blocking melee attacks, faster health regen while moving, faster health regen activation during combat.
Dodging does not drain stamina, springing does not drain stamina.

Carrying Capacity:

Increases carrying capacity.

Damage Reduction:

Reduces fall damage, increases armor when grappling an enemy, increases armor, reduces all incoming damage, armor and resistances increase when entering combat.

Combat:

Increases melee damage, increases damage while carrying a body.
Allows to reload weapons, to shoot while springing, sliding, and vaulting.
Allows to shoot with Pistols and Revolvers or spring while carrying a body.
Enemies can't knock you down.
Annihilation
Effects summary by type:
Shotguns and Light Machine Guns:

Improves/adds damage, recoil, reload time, movement speed in combat, Crit Chance, Crit Damage, enemy knockback, Shotgun's chance of dismembering enemies.

Combat:

Improves damage to torsos, evasion while reloading, damage to moving targets, fire rate after dismembering an enemy, movement speed when entering combat, damage increase proportional to movement speed, damage to staggered and knocked-down enemies, weapon recoil reduction after dismembering enemies.
Defeating an enemy increases movement speed.
Doubles the duration of Burn [Burn continuously depletes health].
Weapon spread does not increase while moving.
Street Brawler
Effects summary by type:
Blunt Weapons:

Increases/adds damage from combo attacks, damage from Strong Attacks, armor when blocking, chance to apply Stun [Stun briefly immobilizes, leaving vulnerable to attack], Health regen from attacks, Stamina cost of attacks, damage against Stunned enemies, Stamina cost of blocking attacks, damage proportional to player's missing Health, Stamina restored after defeating a target with a Strong Attack, Stamina regen while blocking, Stamina restored when attacking Stunned enemies, damage after defeating an enemy, target's armor reduced from Strong Attacks, Health restored when blocking, Stamina and Health restored when attacking Stunned enemies.

Combat:

Increases Crit Damage after entering combat.
Cool Attribute
Ninjustsu (Previously Stealth)
Effects summary by type:
Sneaking, Detection:

Improves/adds damage dealt by silenced weapons, sneaking movement speed, Crit Chance, detection time, can't be detected underwater, movement speed after being detected by an enemy, Health regen when in Stealth, crouch attacks with melee weapons guarantee a Crit Hit and deal more damage.

Other Stealth:

Unlocks non-lethal aerial takedowns on unaware targets, movement speed increased after a takedown, damage from headshots from outside combat, allows to pick bodies immediately after a takedown.

Throwing Knives and Poison Status:

[Poison slowly depletes Health, reduces Armor and slows movement]

Allows you to throw knives, increases thrown knives damage, all knives apply Poison, knives instantly defeat enemies with less than 15% Health unless they have a Very High threat level.
Grants immunity to Poison, enemies affected by Poison are slowed, deal more damage to Poisoned enemies, double Posion damage, increases duration of Poison applied to enemies.

Combat:

Increases damage to human enemies, crit chance upon entering combat.
Quick Melee Attacks with ranged weapons stagger targets, giving an opportunity to grapple.
When health drops below 50%, reduce all incoming damage.
Cold Blood
Effects summary by type:
Cold Blood Status:

Gain Cold Blood after defeating an enemy and increase movement speed, increase duration of Cold Blood, increase max stack amount, when your Health is 45% gain a max stack, landing a Crit Hit has a chance of gaining a stack, stacks are removed by one and not all at once.
Per stack:

Increase Resistances, reduce weapon recoil, reduce quickhack cooldowns, increase Armor by 10%, increase overall Health regen, increase attack speed, reduce quickhack upload time.

While active:

Increase damage with melee weapons, reduce damage taken, gain immunity to Bleeding, Poison, Burn, and Shock, increase Crit Chance and Crit Damage.

Combat:

Increase headshot damage.
Technical Attribute
Crafting
Effects summary by type:
Disassembling:

Gain more components, junk items automatically disassembled, improved chance to gain a free component matching item quality, get attached mods back.

Crafting, Upgrading, and Crafted Items:

Unlock crafting of Rare, Epic, and Legendary items.
Reduces component cost for crafting.
Crafted weapons deal more damage, crafted clothes have more armor, improves damage and all damage-related stats of weapons.
Chance to upgrade an item for free, reduces component cost for upgrading.
Upgrade lower quality components.
Increase the sale price of crafted items.

Consumables:

Improve effectiveness of consumables.

Grenades:

Grenades deal more damage.
Engineering
Effects summary by type:
Looting:

Increased chance of a weapon mod or attachment when looting drones, mechs, and robots

Grenades and Grenade Damage Reduction:

Reduced damage from explosions, immunity to all effects from your own grenades, explosion radius is visible, all grenades deal more damage, grenades deal Crit Hits

Damage to Drones, Mechs, and Robots:

Tech Weapons and Smart Weapons:

Allows to charge Tech weapons, increased Crit Chance, incrreased charge multiplier, fully charged Tech weapons deal more damage, fully charged Tech weapons do not shoot automatically, reduces charge amount needed to penetrate walls, charge time is reduced, Tech weapons ignore Armor, increased damage.

Smart Weapons:

Increases Smart weapon reload speed

Other Special Damage:

Grants immunity to Shock, ricochets deal more damage, increases charge damage from all chargeable weapons and cyberware.