Game:
Cyberpunk 2077
Content Type:
Gaming Guides
Operating System Cyberware might look like thee most complex category of all others available, but once you decide what you would like to use it for, you only need to pay attention to a third of its functionality.
For Netrunners, the choice will be the Cyberdeck Cyberware, since they need the Quickhacks functionality to achieve their full potential.
Solo builds can pick between the Reflexes approach (Sandevistan) or Body approach (Berserk). We will discuss the potential logic behind these decisions below. Keep in mind that, unlike Cyberdecks, Sandevistan and Berserk can be equipped with mods that improve their functionality.
(1 slot available)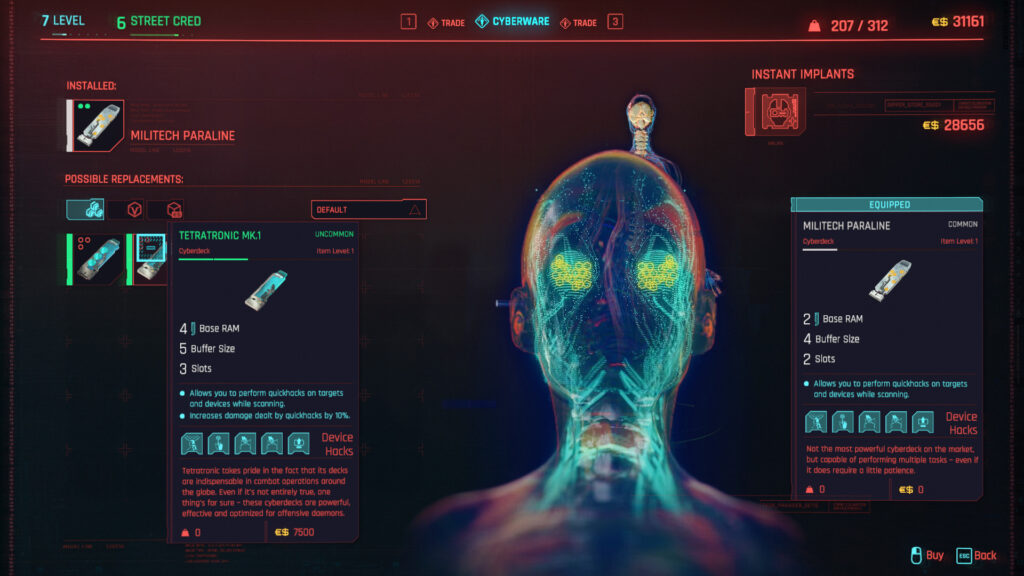 (Click here to return to our main Cyberpunk 2077 Cyberware Guide.)
Do I Need Operating System Cyberware?
Unless you want your Netrunner to only farm currency and crafting materials from vending machines, you will need a Cyberdeck. It must be equipped for any Quickhacking or application of daemons to the network. So, if you have an Intelligence-heavy build, your one available slot is probably decided. You won't need the Attribute to equip these, but you will need some Street Cred to acquire most of them.
The fastest RAM recovery is offered by the Rare and Epic Biotech, Legendary Fuyutsui, and the NetWatch Netdriver Cyberdecks. The rest of the Legendary decks give you additional unique advantages when using Quickhacks.
Now, let's talk Sandevistan and Berserk. If you are investing both into Reflexes and Body, which one should you get for your character?
Both have base bonuses for both melee and ranged combat styles (Rare-Legendary Biodyne Berserk also increases ranged damage). With mods taken into account, both can be configured to improve Crit Chance, Crit Damage, health and stamina regeneration (upon defeating enemies for Sandevistan), increased duration, and decreased cooldowns.
Berserk has unqiue reductions for recoil and sway, and a bonus to armor that Sandevistan can't replicate. Also, Beast Mode mod for Berserk will double your melee damage. Sandevistan, on the other hand, comes with its own unique mod bonuses, such as longer detection and clearing of all Status Effects.
As for the time dilation, Kerenzikov Nervous System Cyberware is a fair substitute for Sandevistan. So, you don't have to completely lock yourself out of the time dilation system — you can pick Berserk and get great melee damage (also ranged damage with Rare-Legendary Biodyne Berserk) and armor bonuses for your character, slowing down the time when you perform actions while sliding or dodging.
However, if you find time dialtion a useful mechanic and would like to trigger it manually, Sandevistan is a great way to go. You can always combine Sandevistan with Kerenzikov for ultimate time dilation triggering. Synaptic Signal Optimizer under Nervous System will increase the duarion of both.
Of course, if you do not have a lot of points invested into both the Body and Reflexes (while not being all too interested in Intelligence Attribute), you can simply go with the one out of the two that you plan on investing into the most. Both Sandevistan and Berserk come with their unique bonuses and strategy and can be very useful in combat.
Operating System Mods
There are no mods available for Cyberdecks, but Sandevistan and Berserk Operating System Cyberware comes with one mod slot at Rare rank, two at Epic rank, and three at Legendary rank (whether Iconic or not).
Offer these improvements:
Sandevistan:

Increases Sandevistan duration, Sandevistan cooldown.
Increases Crit Chance, Crit Damage.
Activating Sandevistan clears Status Effects (Burn, Poison, Bleeding, Shock).
While Sandevistan is active, defeating enemies restores stamina, health. Or, while active, enemies take longer to detect you.

Berserk:

Increases Berserk duration, Berserk cooldown.
While Berserk is active, increases armor, resistance, melee damage, health regeneration, Crit Chance, Crit Damage. Decreases sway, recoil.
Where Can I Look For Operating System Cyberware?
There is no good place for acquiring all of the Operating Systems, be it Cyberdeck, Berserk, or Sandevistan. They are scattered across the Night City. Set your eyes on a type: you will likely get an opportunity to loot a few of them as you go as well.
With Sandevistan and Berserk, you will get as many bonuses from the base Cyberware as you will by installing mods.