Game:
Cyberpunk 2077
Content Type:
Gaming Guides
Cyberpunk 2077 offers a very open system for creating your character build: there are no classes, so everything depends on how you distribute your Attribute Points and Perk Points. Meanwhile, you will be leveling your Skills by directly using them (that is, by performing actions that relate to a certain Skill). Your Skills will be filling the gaps in your character build and often lending themselves to your build planning organically, since you will most likely be leveling the aspects of your character you use the most. This guide will focus on the Character Skills in Cyberpunk 2077, how you level these Skills up, and what benefits you get by doing so.
The Cyberpunk 2077 character skills are:
Handguns, Blades, Assault (Reflexes)
Crafting, Engineering (Technical Ability)
Breach Protocol, Quickhacking (Intelligence)
Athletics, Annihilation, Street Brawler (Body)
Ninjutsu, Cold Blood (Cool)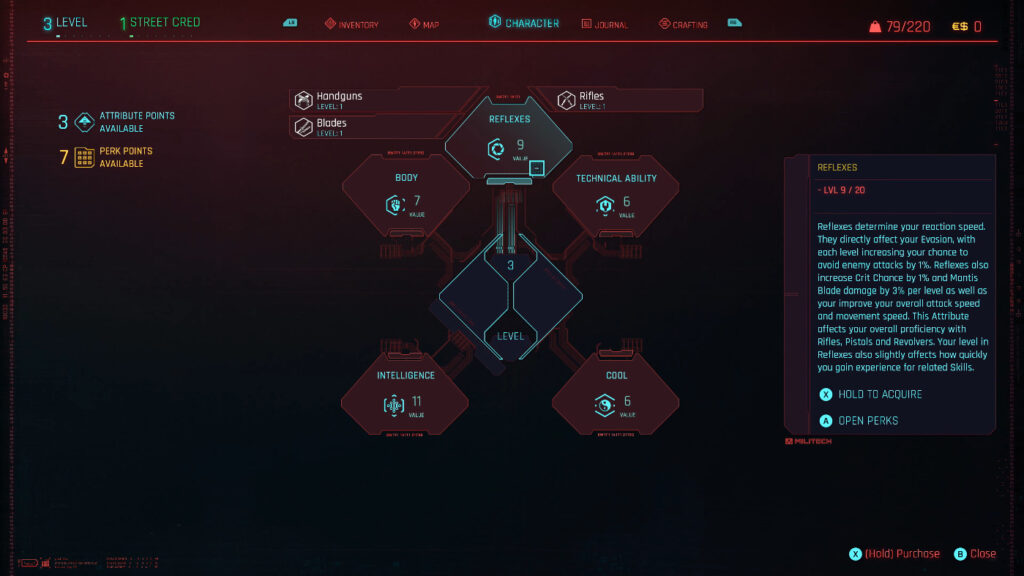 (Check out our Attributes Guide for information about each Attribute).
Skills fit neatly into the Attribute-Skill-Perk RPG system of Cyberpunk 2077: Attributes set a level cap on your Skills and you customize your Skill-related bonuses by purchasing Perks. If you need a quick overview of this system, we have prepared a "Attributes vs. Skills vs. Perks" section for you below.
Skills are at an interesting place in this system — at a first glance they might seem not to do much, but you will notice that the passive bonuses from their Skill Progression Rewards add up quickly to make a difference for your unique build, especially when it comes to weapon proficiency. Skills will also provide you with most of your Perk points.
(It's still worth leveling some of the skills you don't plan on using — a good chunk of all Progression Rewards are Perk points!)
Here are the bonuses you will see from leveling your Skills:
Each Skill level above the 1st earns Skill Progression Rewards, which award passive increases along with Perk points. They are the main source of your perk points in the game (read more about Perks in our Perks Guide).
Getting your Skill to level 20 unlocks an exclusive Perk for that Skill.
For most ranged and melee weapons, your Skill level significantly improves the experience of wielding that weapon due to Skill Progression Rewards.
There is also a slightly less noticeable bonus to paying attention to your Skills: they serve as a good way to track what actions you perform the most as your play through the game. If you aren't sure about what build you should pursue, either at the beginning or mid-game, just watch which Skills you level the quickest. Of course, you can significantly expedite Skill leveling by investing into Perks and by trying to perform certain actions more frequently, so expect the correlation to go both ways.
With that being said, let's look at what suggestions and tips we have for you and then go through each of the Skills individually.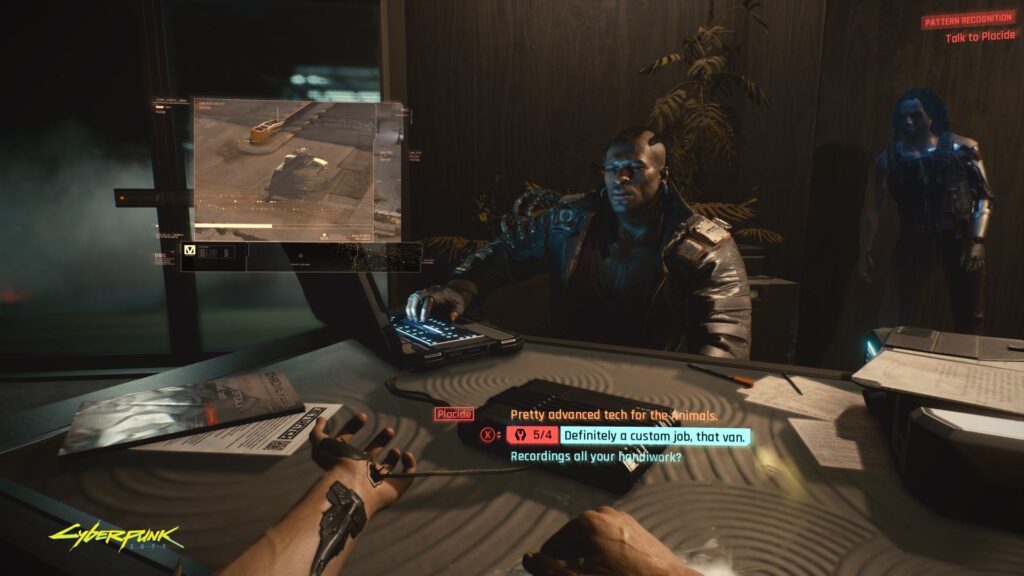 (Click here for the guide to your Cyberpunk 2077 character.)
Overview and Tips
Attributes vs. Skills vs. Perks
We cover the basics of this correlation in our Attributes Guide and Ultimate Character Guide if you want to make sure you fully understand the system. Still, we will cover the basics and a few important points here once again.
Here are the basics:
Attributes themselves give you passive bonuses per level (see individual Attributes listed later in this guide).
Attributes set a cap level for your Skills. Skills are leveled through use.
Attributes unlock high-level Perks. All Perks except for one (that is, one for each Skill) are unlocked by increasing your Attribute level.
If you don't know what Skills you want to focus on, it's a good idea to observe what Skills you use the most (that is, what Skill-related actions you perform the most — see our list below for correlations) and then increase Attribute levels to accommodate them.
Don't get carried away in only investing into a couple specific Attributes that you envision for your build (unless you have a very specific plan that concerns Attribute bonuses and Perk unlocks) — if you can't seem to catch up with Skill XP, look to Skills like Cold Blood, Athletics, and Annihilation and see if you naturally lean towards leveling them. Their Attribute bonuses, Skill Progression bonuses, and Perks will benefit a lot of character builds and investing into those areas might smooth out some of the rough edges of your build.
If you don't know what maxing-out a Skill does for you in regards to Perks (since Attributes unlock almost all of the Perks for you), we suggest you look over our section titled "Unlocking Traits" below.
List: Leveling Skills
(The list was adapted, with some changes and additional tips by us, from Cyberpunk 2077 – The Complete Official Guide by Piggyback.)
Concrete XP values you will see in this list will scale based on a target's level. Numbers you will see here are base values.
If a Skill is leveled by dealing damage to enemies in a specific manner, keep in mind that the XP will be awarded after your target is neutralized — it might look like you need to kill an enemy using a skill-related action in order to get the XP, but that is not the case, unless the phrase "defeating targets" is used.
If you have discovered some other non-obvious methods of leveling Skills efficiently, please let us know in the comments and we will add them below!
Unlocking Traits
You might have noticed that Perks are unlocked by leveling a corresponding Attribute, not the Skill.
Why bother leveling a Skill to 20, in that case?
Well, on level 20 of any Skill you will unlock a unique Perk that can only be unlocked by getting that Skill to level 20. For example, Assault of level 20 will unlock Punisher, and Cold Blood will unlock Merciless. These Perks are singled-out as "Traits" because you can keep investing overflow Perk points into them indefinitely — the scaling bonus is listed with every Perk in our Perks Guide.
Let's look at Merciless as an example. If your Cold Blood is 20, the perk will unlock and do the following: While Cold Blood is active, it increases Crit Chance by 10% and Crit Damage by 25%. Then, it will also give you +1% Crit Chance and +3% Crit Damage per Perk level.
It might not be worth collecting Perk Points specifically to keep investing into Merciless, but it might definitely be worth it to invest your overflow here, if you are mostly left with low-level Perk options due to your lower Attribute levels elsewhere (as we discuss in our Attributes Guide, it's not possible to get all of your Attributes to maximum level.)
Reflexes Attribute
Assault
Improves ADS Time, Recoil, Spread, Crit Chance, and Crit Damage of your Submachine Guns and all Rifle types.
Level 20 unlocks Punisher Perk. (After defeating an enemy with a Rifle or Submachine Gun, weapon sway is nullified and weapon spread does not increase for 10 sec. +0.2 sec per Perk level.)
Handguns
Improves ADS Time, Recoil, Spread, Crit Chance, and Crit Damage of your Pistols and Revolvers.
Level 20 unlocks The Good, The Bad, and The Ugly Perk. (After a successful Crit Hit with a Pistol or Revolver, damage and Armor increase by 30% for 5 seconds. +1% per Perk level.)
Blades
Improves Stamina, as well as Attack Speed, Stamina Cost, DPS, Crit Damage, Crit Chance, and Block Damage Reduction when using Katanas, Blades or Mantis Blades.
Level 20 unlocks Dragon Strike Perk. (Increases Crit Damage with Blades by 25%. +1% per Perk level.)
Intelligence Attribute
Please see our Cyberpunk 2077 Hacking Guide for a more detailed breakdown of the two skills, the Quickhacks list, and some of our strategy ideas!
Breach Protocol
Improves Breach Protocol Time, Components Aquired, RAM, and Buffer Extension.
Level 20 unlocks Transmigration Perk. (Increases the breach time of Breach Protocol by 50%. +5% per Perk level.)
Leveling Method: Device Hacking
You can level Breach Protocol through Device Hacking: scan facility's devices (both security and stuff like spotlights and mounted TVs) and use your cyberdeck RAM to perform quickhacks on devices like cameras to compromise surveillance and distract your enemies.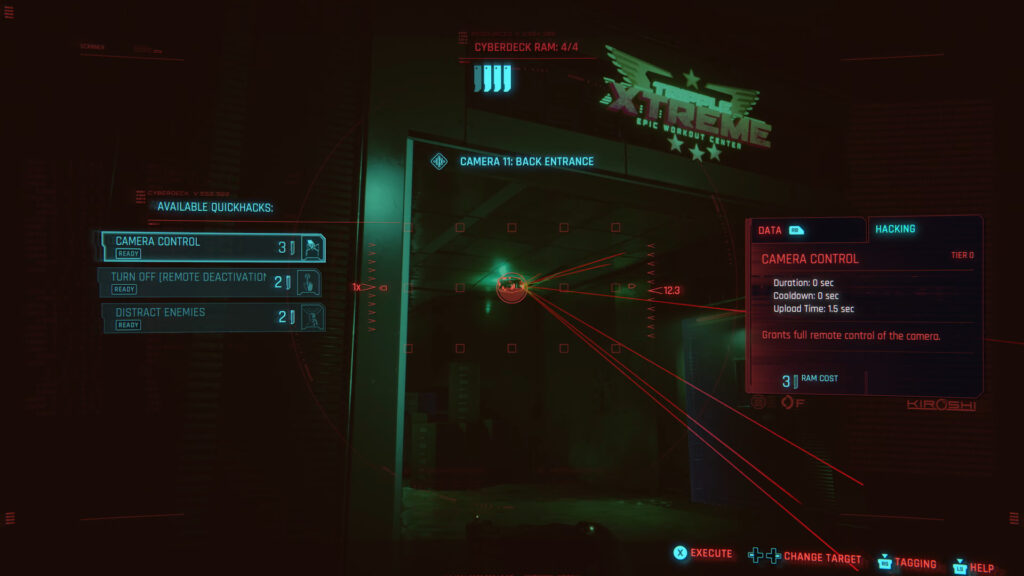 Quickhacking
Improves Quickhack Duration, Quickhack Cooldown, and RAM.
Level 20 unlocks Master RAM Liberator Perk. (Increases RAM recovery rate by 50%. +1% per Perk level.)
Leveling Method: Target Hacking
You can level Quickhacking through Target Hacking: target individual enemies and use your cyberdeck RAM to perform quickhacks on their cyberware system, like compromising their senses, forcing them to deploy their own grenades, or commit suicide.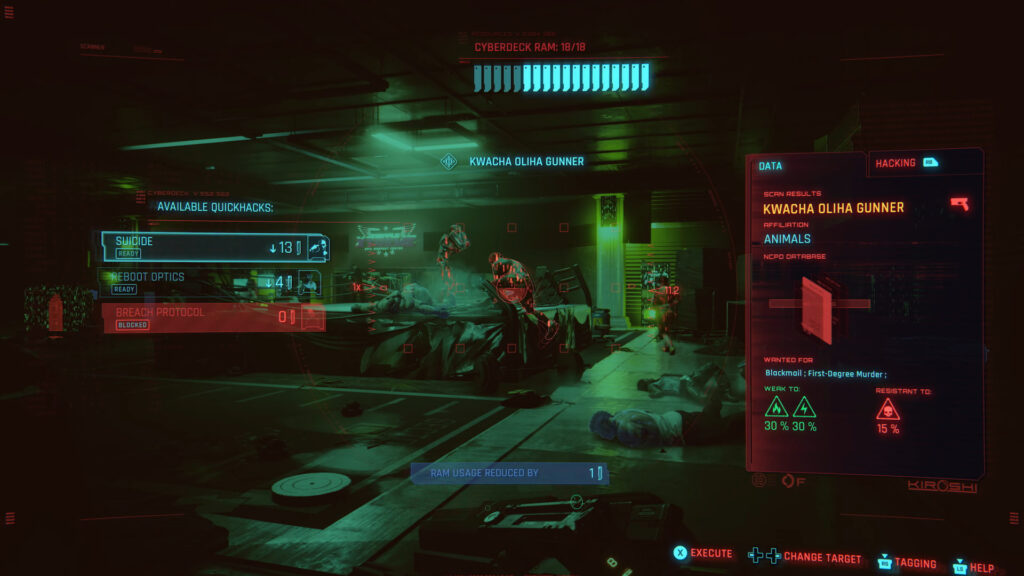 Body Attribute
Athletics
Improves Carrying Capacity, Stamina, Stamina Regen Rate, Health, Health Regen Rate, and Armor.
Level 20 unlocks Hard Motherfucker Perk. (When entering combat, Armor and Resistances increase by 10% for 10 sec. +1% per Perk level.)
Note: As of December 23rd, 2020, Athletics is still reported to be the disproportionately slowest-leveling Skill in Cyberpunk 2077. If this is a Skill you aren't making a lot of progress in, do not blame your approach — many players are struggling with the same issue. There is hoping that CDPR releases a patch that addresses this issue soon.
If you have some advice on how to level this skill fast in its current state, please let us know in the comments!
Annihilation
Improves ADS Time, Recoil, Spread, Crit Chance, and Crit Damage of your Shotguns, Light Machine Guns and Heavy Machine Guns.
Level 20 unlocks Bloodbath Perk. (Dismembering enemies reduces weapon recoil by 50% for 5 sec. +1% per Perk level.)
Street Brawler
Improves Stamina and Health, as well as Block Damage Reduction, Attack Speed, Stamina Cost, Crit Damage, DPS, and Crit Chance when using fists, Blunt Weapons or Gorilla Arms.
Level 20 unlocks Guerrilla Perk. (Increases Crit Damage by 60% for 10 seconds after entering combat. +2% per Perk level.)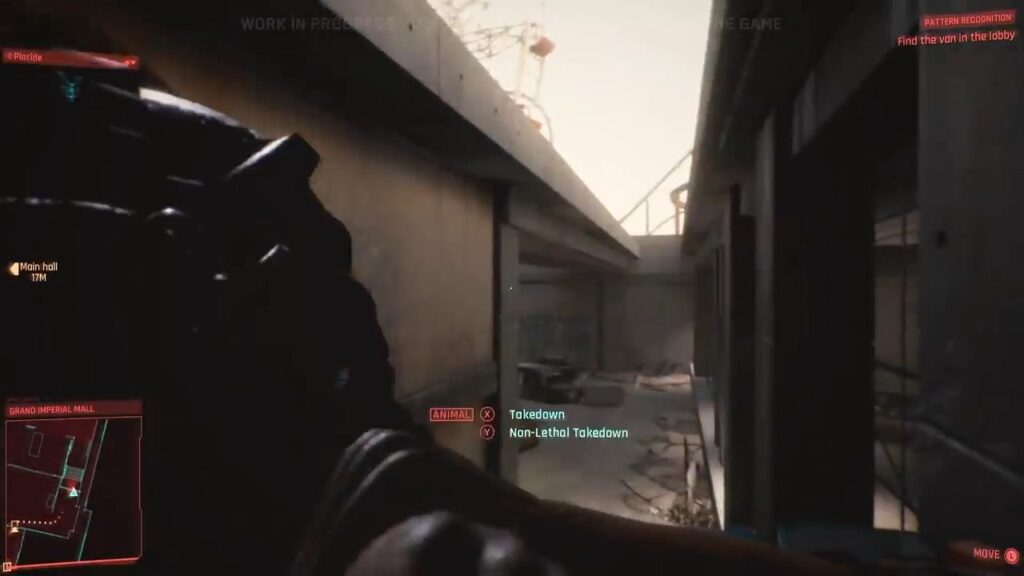 Cool Attribute
Ninjutsu (Previously Stealth)
Improves Evasion, Visibility to enemies, Health Regen Rate, Movement Speed, and DPS.
Level 20 unlocks Toxicology Perk. (Increases the duration of Poison applied to enemies by 5 seconds. +0.2 sec per Perk level.)
Cold Blood
Improves Crit Chance, Armor, Health, Stamina, all Resistances, and Movement Speed.
Level 20 unlocks Merciless Perk. (While Cold Blood is active, increases Crit Chance by 10% and Crit Damage by 25%. +1% Crit Chance and +3% Crit Damage per Perk level.)
Technical Ability Attribute
Crafting
Improves Crafting Cost, chance to acquire a component from crafting, and Upgrade Cost. Unlocks Crafting Specs for all grades of consumables, weapons, weapon mods, clothing, combat gadgets, and cyberware.
Level 20 unlocks Crazy Science Perk. (Increases the sale price of crafted items by 10%. +1% per Perk level.)
Engineering
Improves Armor, Charge Time, DPS, Crit Chance, Thermal Resistance, and Crit Damage when using Tech weapons.
Level 20 unlocks Revamp Perk. (Increases damage from Tech weapons by 25%. Increases charge damage from all chargeable weapons and cyberware by 10%. +1% charge damage per Perk level.)