Game:
Cyberpunk 2077
Content Type:
Gaming Guides
Arms are your "fists" weapon, which — in a way — makes them your fourth weapon slot. There are no Attribute requirements to equip any of these, but you will need a lot of eddies and a lot of Street Cred.
Also, you will probably be looking into related Perk trees to upgrade damage you can deal with these cyberweapons (for example, you want to work on Blades for your Mantis Blades).
Each comes with two unique types of mods that affect its Damage Type and improve its functionality, and with a universal third slot (we have a subsection for these below). In other words, Arms can be a noticeable investment of time and money.
(1 slot available)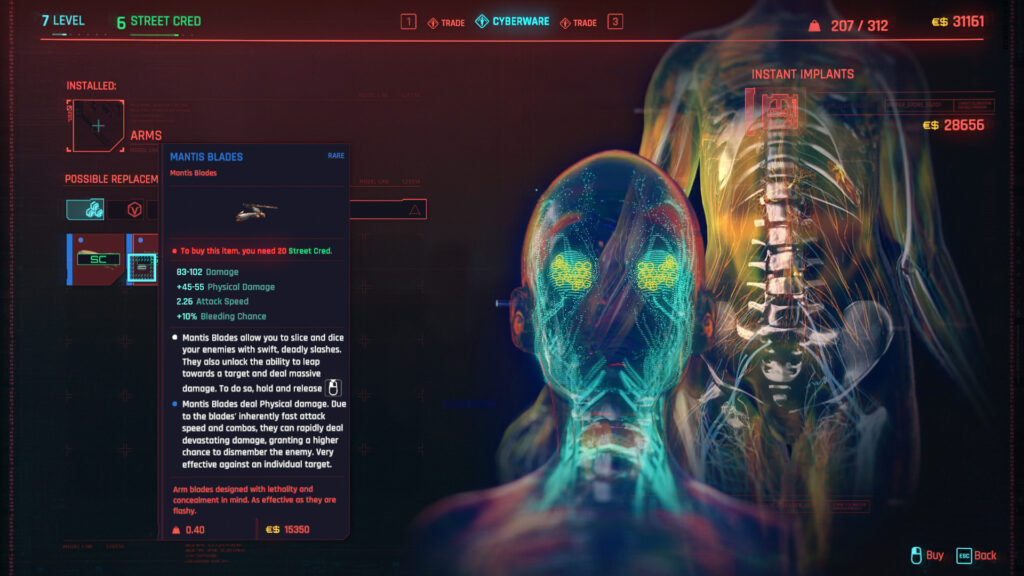 (Click here to return to our main Cyberpunk 2077 Cyberware Guide.)
Do I Need Arms Cyberware?
Arms Cyberware doesn't add any necessary functionality to the gameplay. Even though Gorilla Arms hint that you need them to force open doors, for example, you can already do it with a high enough Body Attribute score. The best a Cyberware like this would do is give you significant advantage for questlines like "Breat on the Brat". So, the question comes down to: do you want to use one of these as a regular weapon?
There is not much lasting advantage these four could provide for you unless you employ bonuses from your Perks and Skills in addition to installing mods. You will have to look into improvements for Blades (Mantis Blades), Blunt Weapons (Monowire and Gorilla Arms), and Smart Weapons (Projectile Launch System, arguably not too many ways of adding to this one) in your Skills and Perks tree. If you do not, at a certain point your regular weapons will really out-do any of your Cyberware ones (some will be beaten more quickly than others).
If you aren't too sure about any of these, you can simply get the Gorilla Arms for improved fist functionality that will extend into any bare-knuckle sparring you might do. You will get a Legendary version by completing any of the game's endings.
Universal Arms Mods
The third mod slot you will unlock with all four Arms types when you get them at Legendary rank is a universal mod slot, the Sensory Amplifier. It has various moderate bonuses it can offer you and comes in four varities (which you can find at different vendors in Night City).
Of course, whether the ludicrous price of the Legendary rank justifies having any of these bonuses is up for debate. It might be a good idea for you to stick to the Epic grade until you have a few zeroes in your account. (And, by then there is a fair chance you might your desired Arms Cyberware as a looted item.)
Where Can I Look For Arms Cyberware?
You can find all of the Epic rank Arms in collection of the unnamed Ripperdoc in Rancho Coronado, Santo Domingo. All of the Legendaries will be sold by the unnamed Ripperdoc at Wellsprings, Heywood.