Game:
Cyberpunk 2077
Content Type:
Gaming Guides
From a brash gang member pulling up next to you on his Toyota MR2 to you trying to steal the Rayfield Aerondight from a corpo, cars and motorcycles of all shapes and power grades populate the futuristic Night City of Cyberpunk 2077. Since both clean and sleek or dusty and rusty can appeal to a particular taste, we aren't here to discuss the aesthetics. Instead, this guide will help you know your options, your features, and your prices for you to pick the best vehicle for the task you are facing ahead.
After all, what glows most splendidly in Night City's neon lights doesn't always endure well driving over a makeshift land mine in the uncharted territory of Pacifica.
Warning: This guide is based on the in-progress information available before the official release of the game. The guide will be updated as more information becomes available.
This question gets asked by a lot of fans due to the early history of Cyberpunk 2077's development: can you customize your car? As far as we know as of right now, no. You can't change colors or outfit the car to your liking. Still, the cars will come in many colors and will all have unique interiors, so don't dismiss their looks just yet.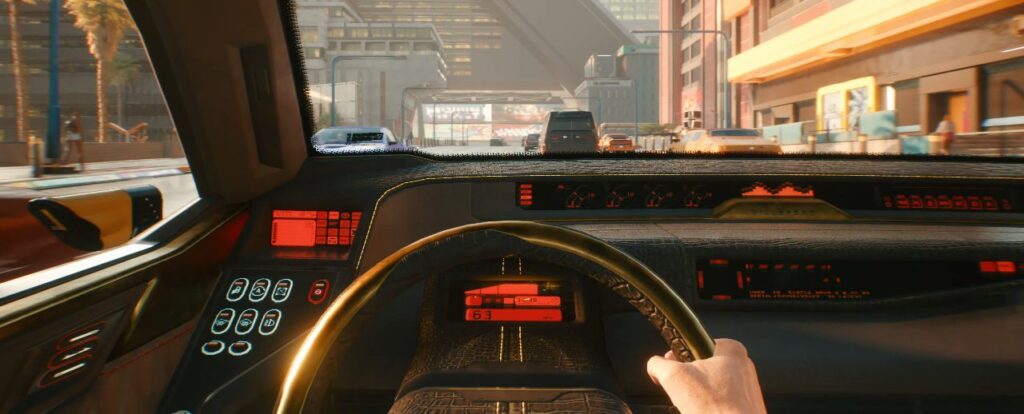 First, we will touch on the Driving System itself. Then we will discuss Cars and Motorcycles separately, just to keep things clean. We will separate the options by their features within each category. Then, we will discuss Other Vehicles to cover more vehicles and transportation methods you will encounter in the game, touching on the NCART Fast Travel functionality, Delamain Cabs, Military Vehicles, and Air Vehicles hovering in the skies of Night City.
Let's get started!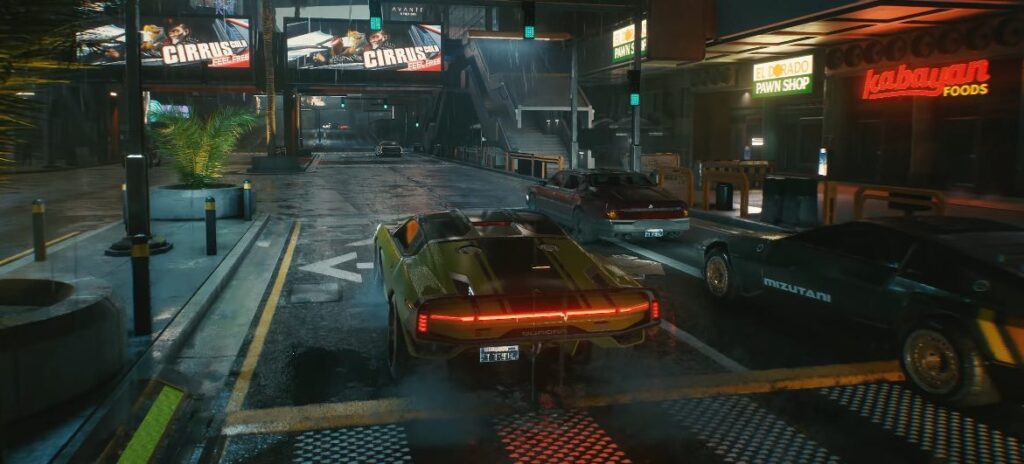 Vehicle Driving System
Summary of the section:
Each vehicle will have something to offer for different challenges you will encounter in the Night City;
There will be a racing mini-game;
You will be able to drive in the 1st and 3rd person mode;
You can't hijack vehicles to modify or drive them without an appropriate Body or Hacking skill;
You can't keep a stolen vehicle;
You can quickly summon any of the vehicles you own legally.
We still don't know everything there is to how driving feels in the game. Cyberpunk 2077 isn't trying to be a racing simulator or an arcade game — instead, vehicles in Cyberpunk 2077 are integrated into the setting, and the various forms and modifications you will see in the game will make sense in regards to the people these vehicles were made to serve. Cheaper cars will have more modifications in the hands of techies, like Nomads, while high-end vehicles will be as rare as the features they possess, such as CrystalDome projection inside particularly luxurious vehicles.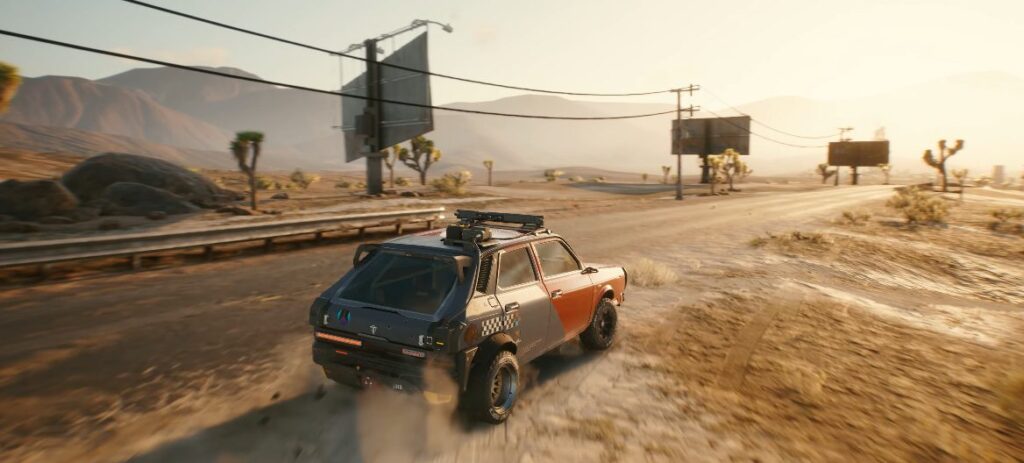 The economy-class vehicles, modified sports cars, and high-class can all be used under certain circumstances. You can probably expect yourself to switch out your ride depending on whether you need to handle the rough terrain outside of the city walls, race through the streets of a dangerous district, or enjoy the views offered by the neon-lit downtown district. Each car will feel, look, and sound different — both from inside and outside, so there are many reasons to try out a little bit of everything. And there will be so many variations for each type of the car that collecting all of them can become its own, very time-consuming challenge.
Speaking of racing — Cyberpunk 2077 might not be a racing simulator, but there will be some racing challenges for you to participate in. We don't know much about the betting system and the courses yet.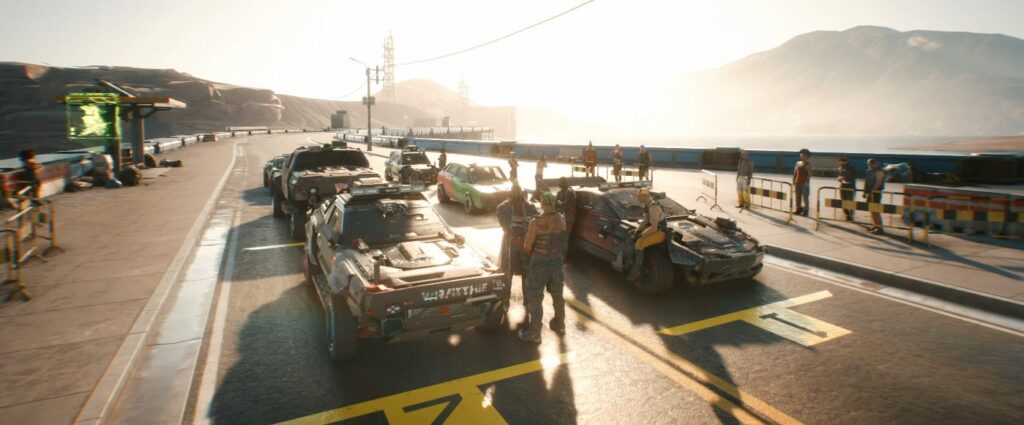 It's worth noting that you will be able to drive your car in both 1st and 3rd person mode to match your needs, and as long as you have the skill (or attention) for it you can pull out of the window and start a shoot-out at any moment. Of course, bad driving behavior and unnecessary violence will have their consequences.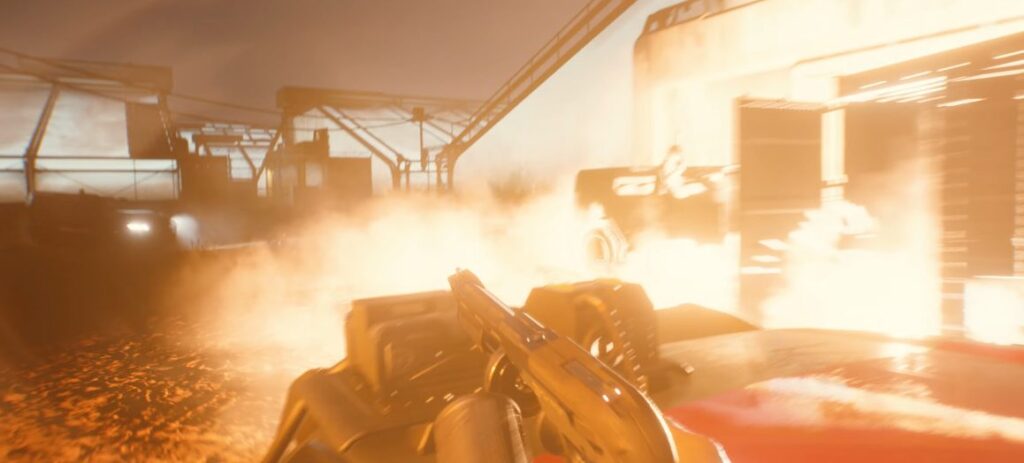 The majority of vehicles you will encounter will be equipped with a SID (subcutaneous identification device), which means that you can't drive them or modify them (for example, break them or install malware) without a matching chip. However, you can hijack a parked car with an appropriate Hacking Skill. There is an alternative option if you don't invest into your Tech tree, and that's if you have a high enough Body Skill to rip people out of their cars while they are on the road. Of course, you will probably need more than a basic human arm to break open any decently made doors of locked cyberpunk vehicles on the fly. But once you unlock the capability to do so with either of the two skills, most of the cars owned by someone else will be accessible to you.
Is hijacking cars worth it, however? There are some moments that will warrant you stealing an expensive or rare vehicle, but after driving it around the city don't expect to keep the stolen vehicles in your collection. On the other hand, you will be able to easily summon cars you have purchased legally and every type of car you can break into you can buy (now, how these cars were obtained in the first place is another question.)
Cars
Tier I: Top Tier and Hypercars
Spain's Herrera and Great Britain's Rayfield certainly won the hearts of wealthy Americans with their superb sports cars and custom-order luxury limousines. They are fast, reliable, and wonderfully comfortable, made from some of the most expensive materials out there. These cars are known for their precise bodywork, speed, and armored exterior to match the needs of their equally top-tier owners. Expect to see such high-tech features as built-in lidar arrays or the CrystalDome, a seamless projection of the external view of the car to provide ultimate protection and privacy for the passenger.
"Imagine you're sitting on a pile o' eddies…"
1. Herrera
Want something glamorous and exotic? A record-setting performance, unmatched comfort? That's what the luxurious Spanish Herrera cars are known for.
Outlaw (Herrera)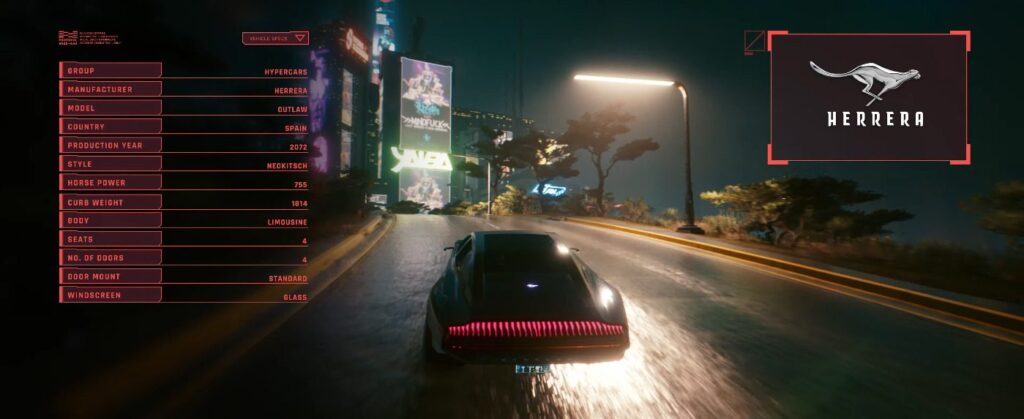 Country: Spain
Production Year: 2072
Style: Neokitsch
Horse Power: 755
Curb Weight: 1814
Body: Limousine
Seats: 4
Doors: 4
Door Mount: Standard
Windscreen: Glass
2. Rayfield
British Rayfield are proud of their luxury models, constantly evolving and diversifying their collection with most recent releases. The Rayfield Aerondight S9 belonging to a corpo official is the car you are tasked to steal during Street Kid's starting quest.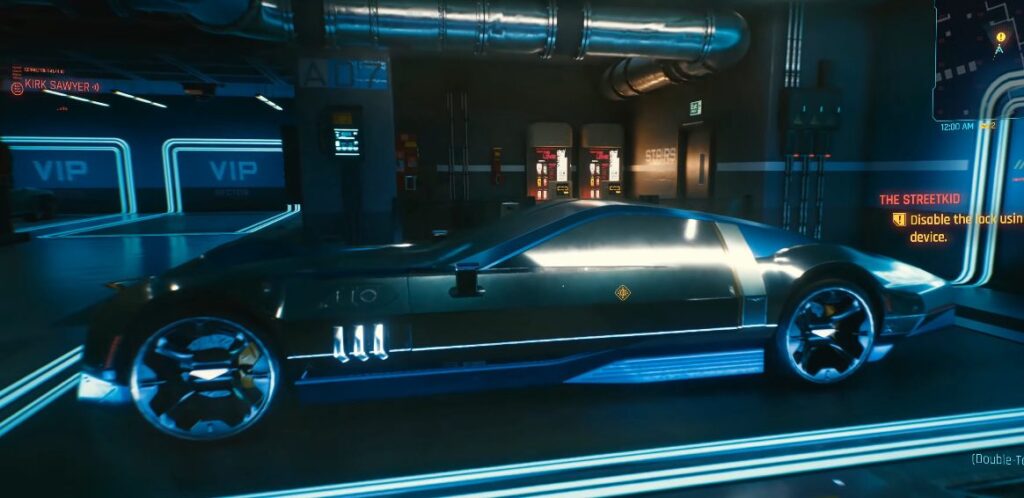 Aerondight (Rayfield)
"Probably less than a thousand people in the world can afford the Aerondight."
Country: UK
Production Year: 2075-2077
Style: Neokitsch
Horse Power: 950
Curb Weight: 1838
Body: Coupe
Seats: 2
Doors: 2
Door Mount: Swing
Windscreen: Crystal Dome
Caliburn (Rayfield)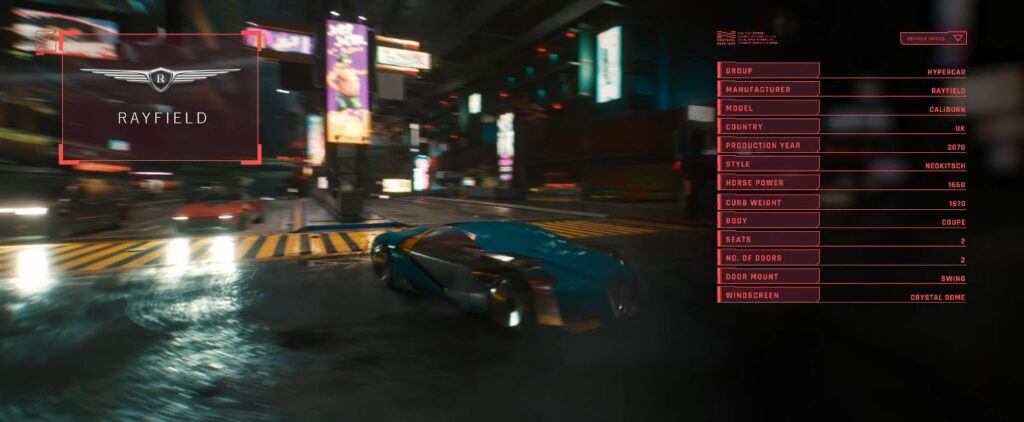 Country: UK
Production Year: 2070
Style: Neokitsch
Horse Power: 1660
Curb Weight: 1670
Body: Coupe
Seats: 2
Doors: 2
Door Mount: Swing
Windscreen: Crystal Dome
Tier II: Executive Tier
Impressive looks match the quality — with these wheels no expense has been spared, no frill ignored. Plush interiors and interiors with latest tech. American manufacturers like Villefort and Chevillon dominate this niche.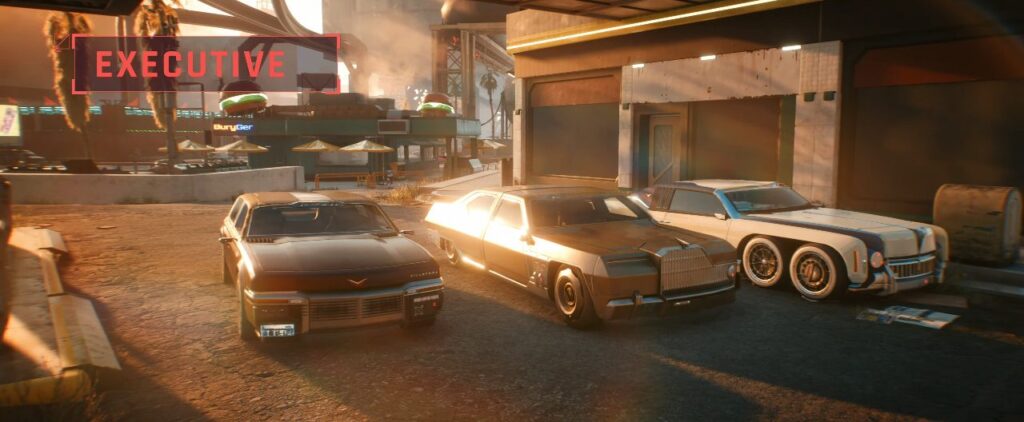 1. Villefort
Villefort is known for good quality and size among those of higher status, like lower-ranked corporate officials.
Alvarado (Villefort)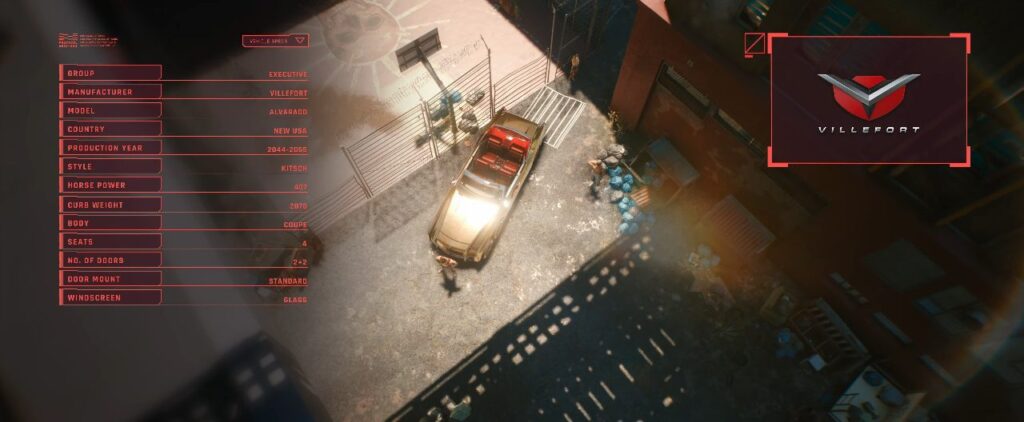 Country: New USA
Production Year: 2044-2055
Style: Kitsch
Horse Power: 407
Curb Weight: 2070
Body: Coupe
Seats: 4
Doors: 2 + 2
Door Mount: Standard
Windscreen: Glass
Cortes (Villefort)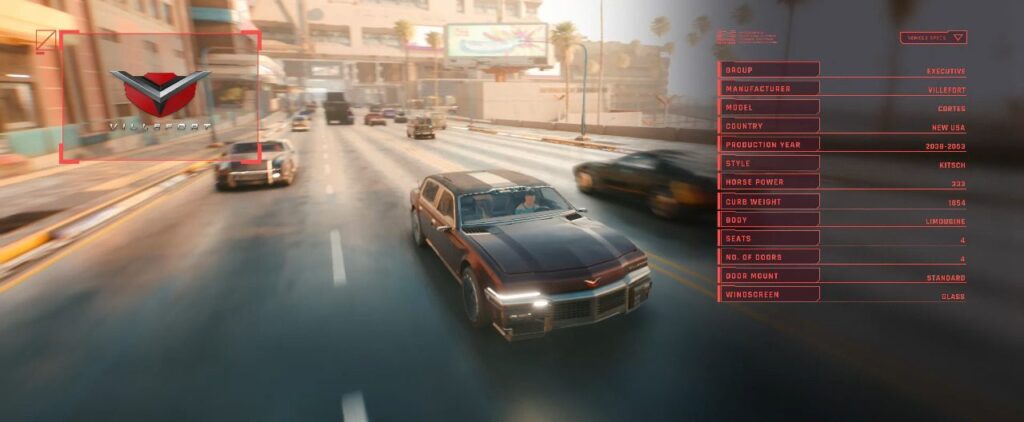 Country: New USA
Production Year: 2038-2053
Style: Kitsch
Horse Power: 333
Curb Weight: 1854
Body: Limousine
Seats: 4
Doors: 4
Door Mount: Standard
Windscreen: Glass
2. Chevillon
Chevillon cars are often used by police and corporate security who prefer the company's neo-militaristic design.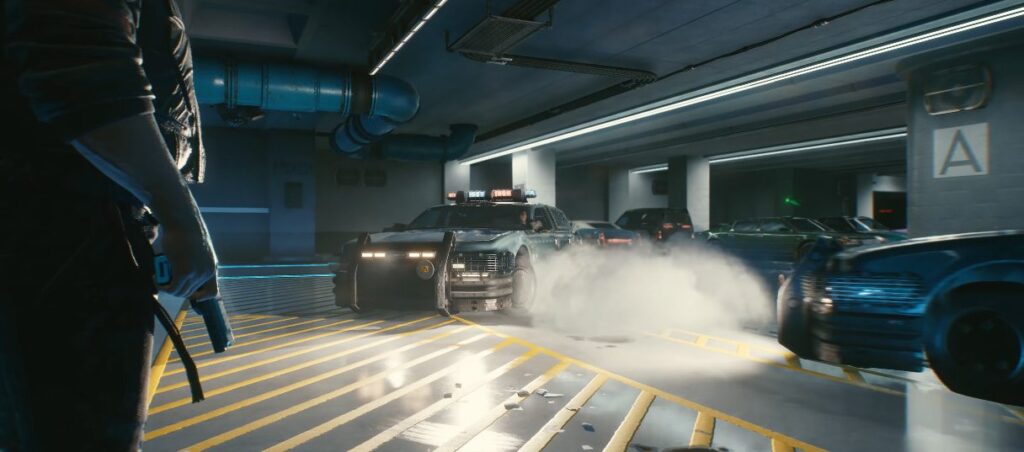 Thrax (Chevillon)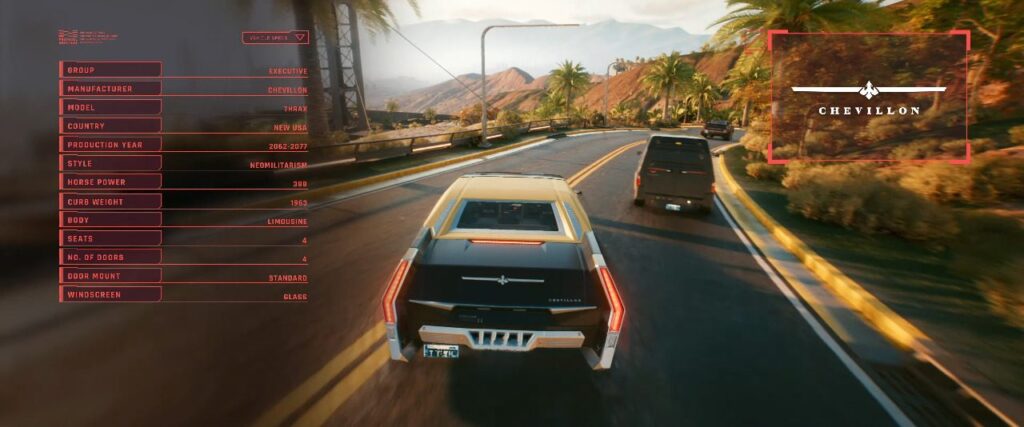 Country: New USA
Production Year: 2062-2077
Style: Neomilitarism
Horse Power: 388
Curb Weight: 1963
Body: Limousine
Seats: 4
Doors: 4
Door Mount: Standard
Windscreen: Glass
Tier III: Sports Tier
These cars are the best companions to those who love the smell of exhaust and the roar of street wildlife. Powerful engines and exchangeable parts allow for easy tuning. So, whether you are racing on the streets or away from NCPD officers, or just showing off, these high-powered beasts earn their respect, whether it's mid-tier Mizutani or Quadra with their iconic Turbo-R.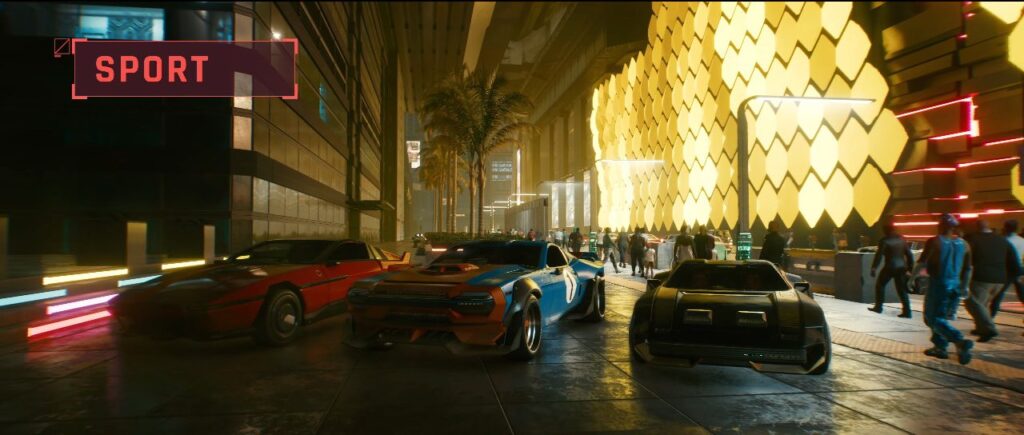 1. Quadra
After some early criticisms towards their cars' suspension and exhaust system, Quadra have mastered the design and manufacturing process of their muscle cars, like the well-known Type-66 and the absolutely iconic Turbo-R design, which could not be surpassed even by Quadra's most recent designs. Wraiths are known to use the "Reaver" modification of the Turbo-66 in the Badlands. However, you probably also know this car from many Cyberpunk 2077 demos and trailers and its association with V.
Quadra Type-66 (Quadra)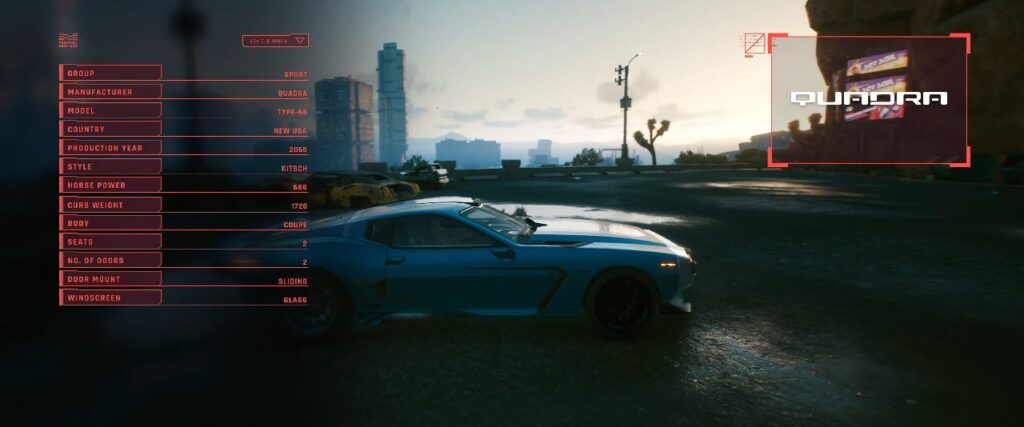 Country: New USA
Production Year: 2055
Style: Kitsch
Horse Power: 666
Curb Weight: 1720
Body: Coupe
Seats: 2
Doors: 2
Door Mount: Sliding
Windscreen: Glass
Quadra Turbo-R (Quadra)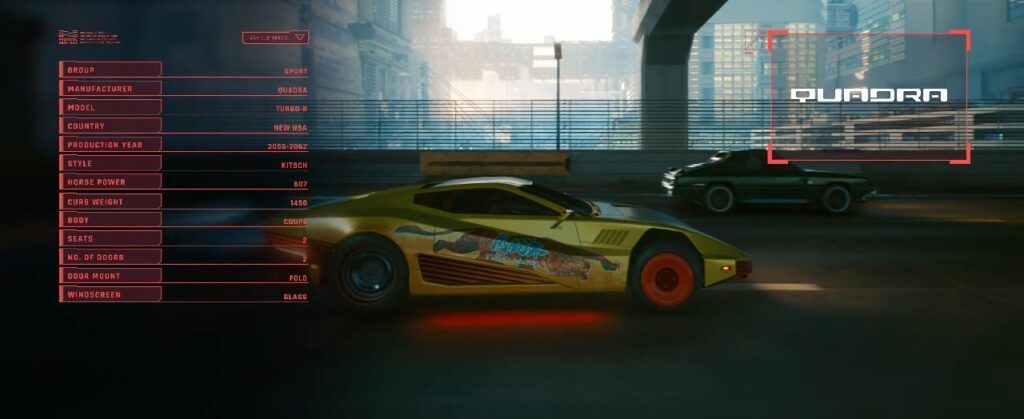 Country: New USA
Production Year: 2055-2062
Style: Kitsch
Horse Power: 607
Curb Weight: 1450
Body: Coupe
Seats: 2
Doors: 2
Door Mount: Fold
Windscreen: Glass
2. Mizutani
Japanese Mizutani, instead, focuses on the production of mid-tier sport cars.
Shion (Mizutani)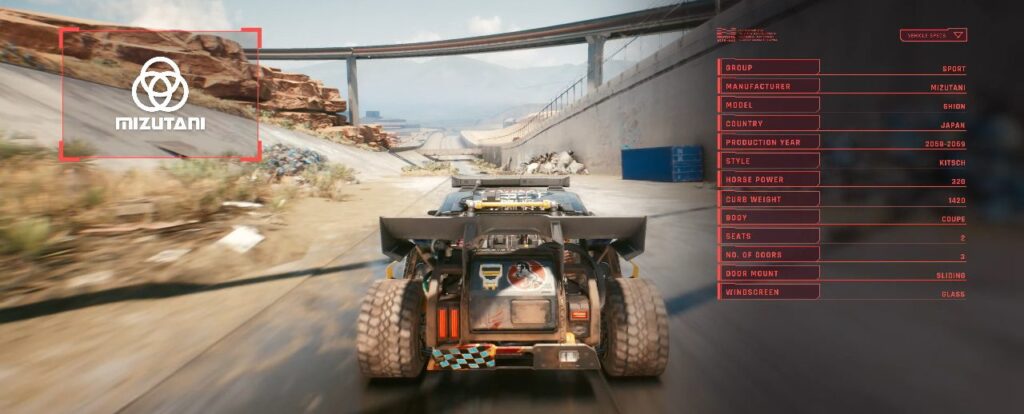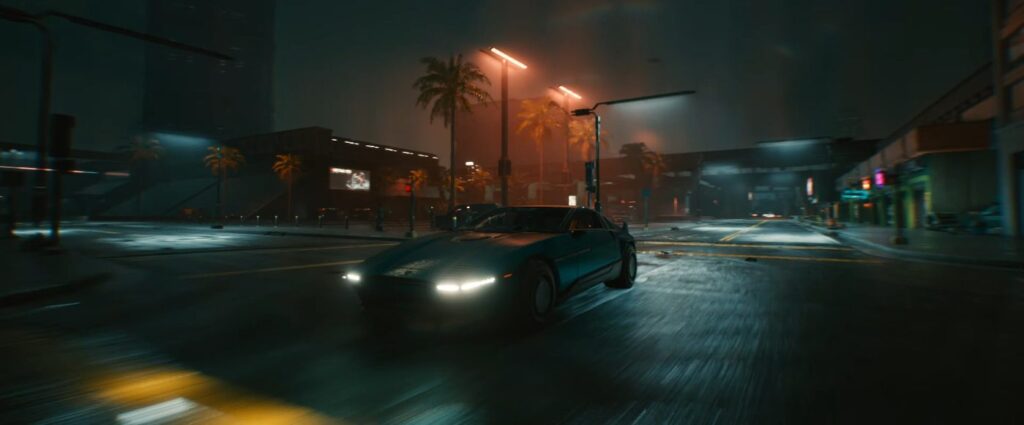 Country: Japan
Production Year: 2058-2069
Style: Kitsch
Horse Power: 320
Curb Weight: 1420
Body: Coupe
Seats: 2
Doors: 3
Door Mount: Sliding
Windscreen: Glass
Tier IV: Heavy Duty
Someone needs to get the job done, and corpos like Militech and Arasaka know their craft. Joined by Kaukaz vehicles, these beasts demonstrate masterful engineering and practical design, both trucks and tanks to suit your more demanding tasks. When you need power and brute force, these monsters are literally unstoppable.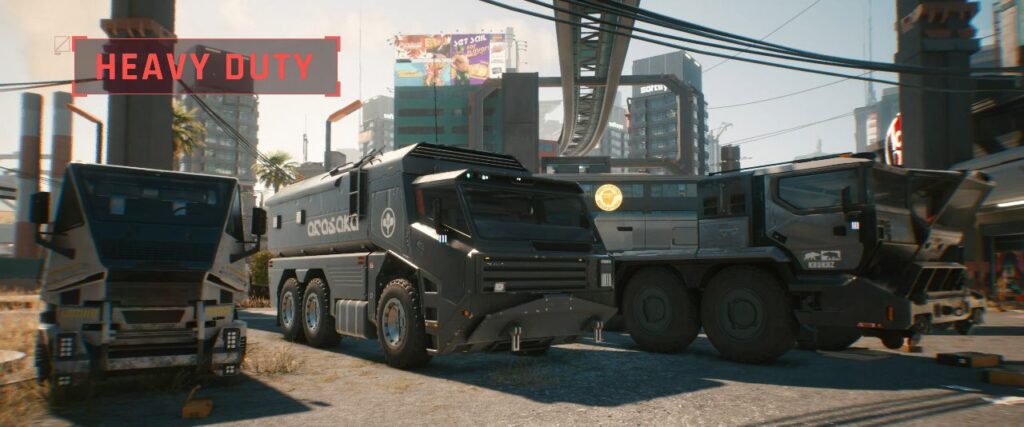 1. Kaukaz
Bratsk (Kaukaz)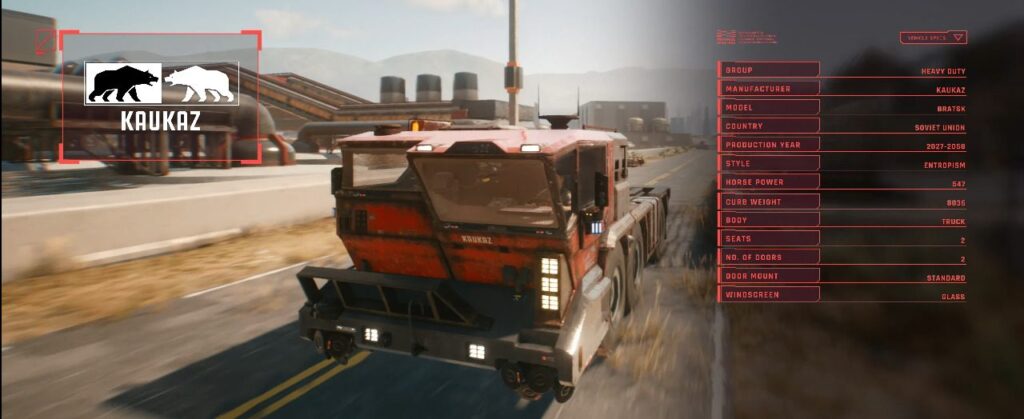 Country: Soviet Union
Production Year: 2027-2058
Style: Entropism
Horse Power: 547
Curb Weight: 8036
Body: Truck
Seats: 2
Doors: 2
Door Mount: Standard
Windscreen: Glass
Zeya (Kaukaz)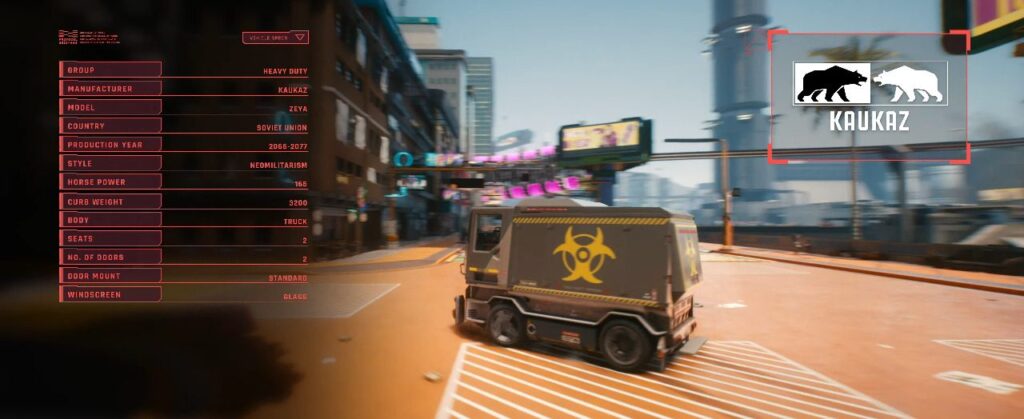 Country: Soviet Union
Production Year: 2066-2077
Style: Neomilitarism
Horse Power: 165
Curb Weight: 3200
Body: Truck
Seats: 2
Doors: 2
Door Mount: Standard
Windscreen: Glass
2. Militech
Behemoth (Militech)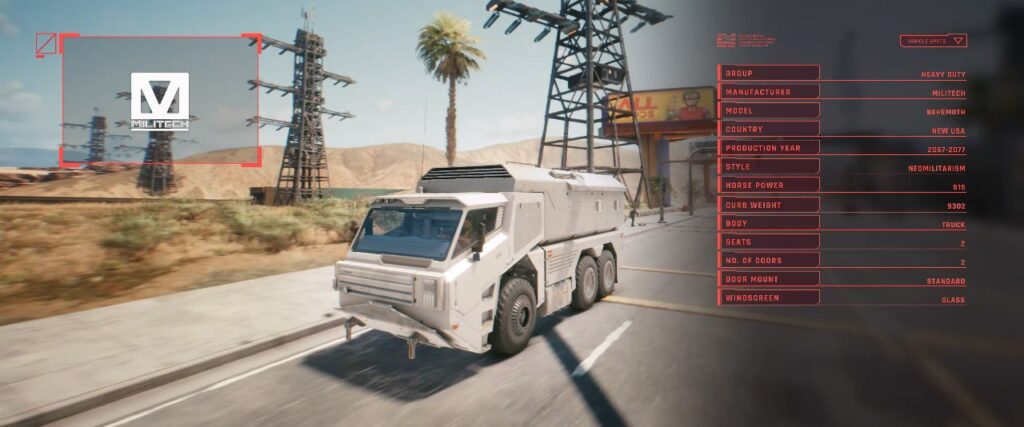 Country: New USA
Production Year: 2067-2077
Style: Neomilitarism
Horse Power: 515
Curb Weight: 9302
Body: Truck
Seats: 2
Doors: 2
Door Mount: Standard
Windscreen: Glass
3. Arasaka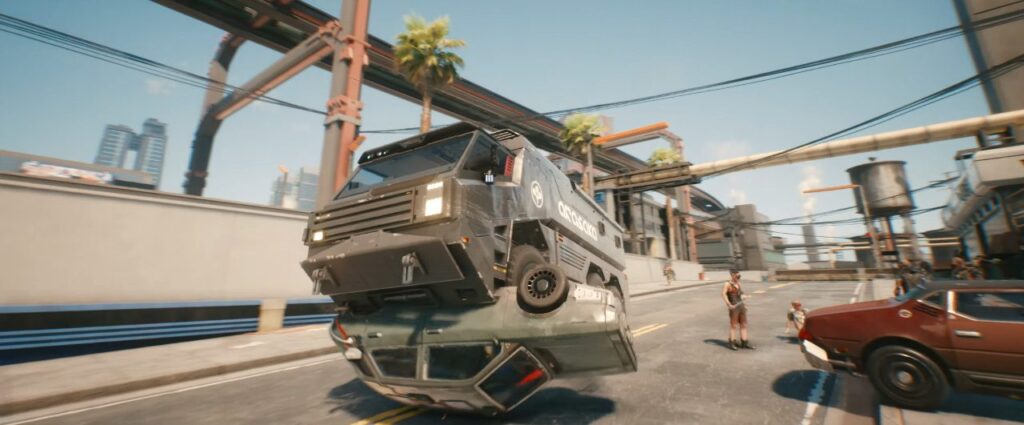 Tier V: Economy Tier
Thorton
Archer
Mahir Motors
Makigai
The oldest functioning car models from this tier (produced between 2020 and 2050) are mostly found in the poorer districts or among Nomad clans, outfitted in Entropism style. Vehicles in this class are mostly utility, along with low-end "clunkers" made for every pocket. Newer economy cars in the American market are produced by the Indian Mahir Motors and the Japanese Makigai, known for their vehicles' lower quality and consequently lower durability. American Thorton and Chinese Archer are a bit more mid-tier, but are still considered to be economy vehicles.
Johnny: "Well, definitely no guy or girl magnet…"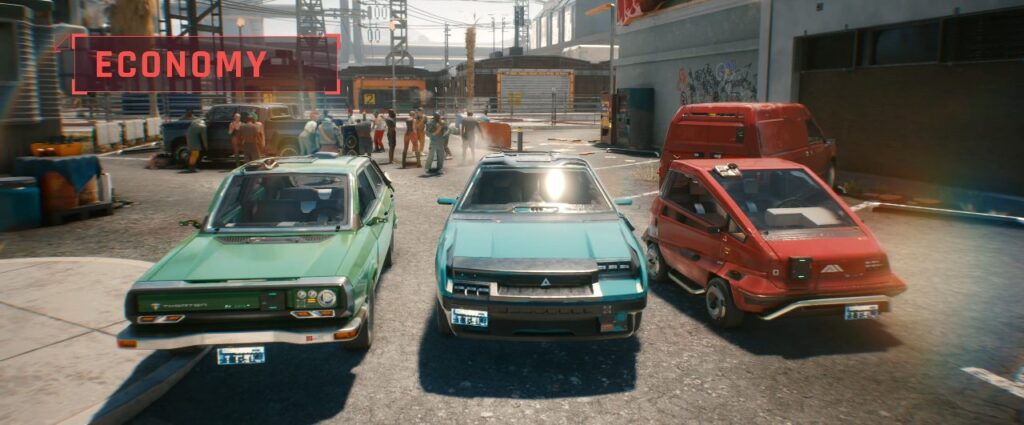 1. Thorton
American Thorton is known for their mid-tier passenger cars. Just like its competitor, Archer, Thornton won hearts of many Nomad engineers for the quality and durability their cars offer in exchange for the affordable price. In addition to those, Thornton is also known for its variety of utility models, like pickup trucks and wagons. We have seen some Thortons driven by the members of the Animal gang, but also in the Nomad car shop during the Nomad prologue quest as a modified hatchback.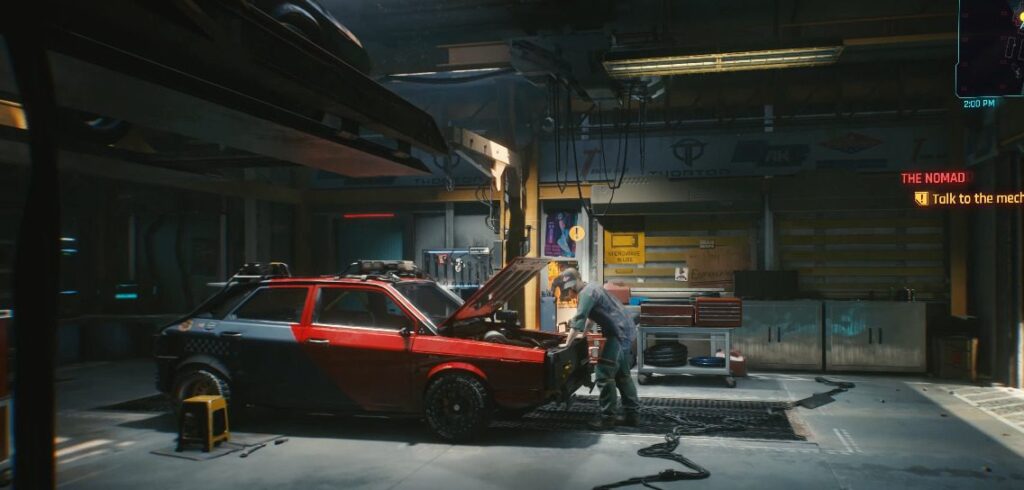 Colby (Thorton)
Voice: "Hold on, hold on… it's a wreck."
V: "Mhm. My damn wreck."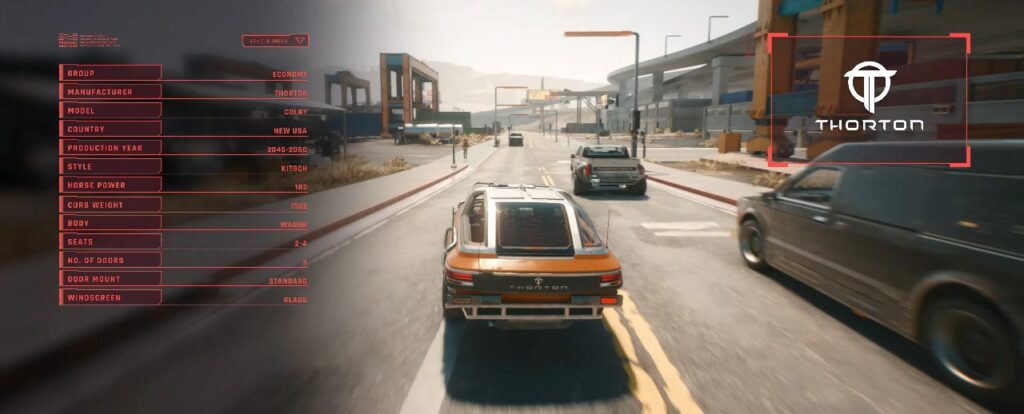 Country: New USA
Production Year: 2045-2060
Style: Kitsch
Horse Power: 182
Curb Weight: 1502
Body: Wagon
Seats: 2-4
Doors: 3
Door Mount: Standard
Windscreen: Glass
2. Archer
Archer is another manufacturer of the mid-class passenger cars, this time of Chinese origin. Fans of the "Kitsch" look featuring bold colors, bright plastic, and accessibility will appreciate the geometric lines and boxy proportions of the Archer's design.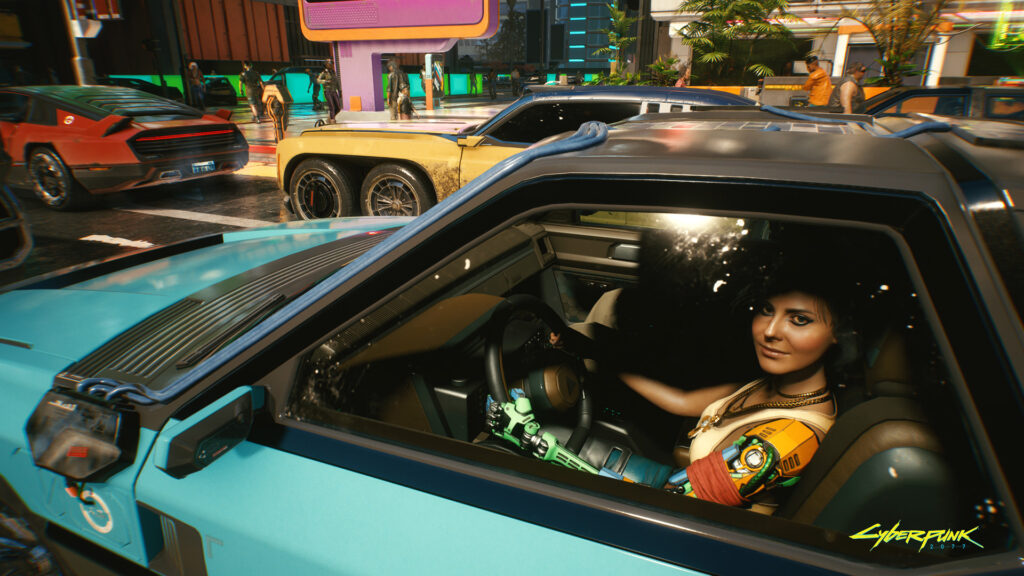 Hella (Archer)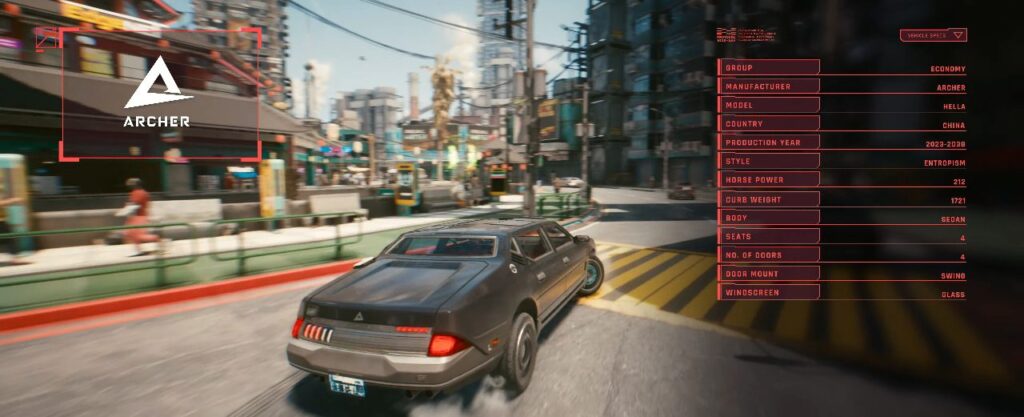 Country: China
Production Year: 2023-2038
Style: Entropism
Horse Power: 212
Curb Weight: 1721
Body: Sedan
Seats: 4
Doors: 4
Door Mount: Swing
Windscreen: Glass
3. Mahir Motors
Mahir Motors is known for their vans.
4. Makigai
Makigai leads manufacturing of compact and cheap passenger cars.
Maimai (Makigai)
V: "Yeah… It's not the size that counts, I guess."
Country: Japan
Production Year: 2032
Style: Entropism
Horse Power: 70
Curb Weight: 580
Body: Bubble
Seats: 2
Doors: 2
Door Mount: Fold
Windscreen: Glass
Motorbikes
1. Yaiba
Yaiba motorcycles look sleek and "sporty," and their maneuverability and speed backs that appearance. This makes them popular among street-racing biker gangs.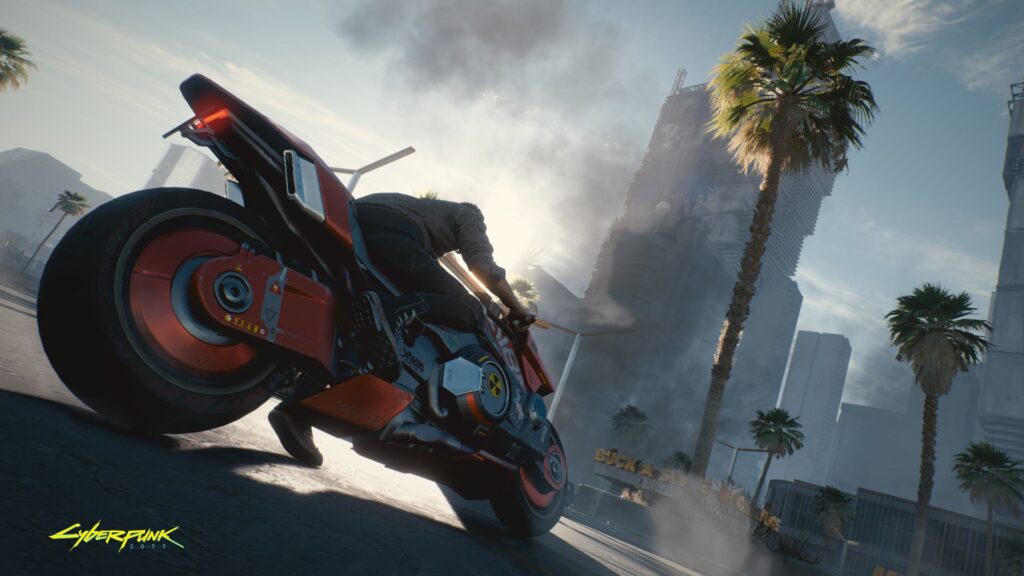 2. Brennan
Unlike Yaiba, Brennan motorbikes are a bit more traditional, known for their cruisers and choppers. These would fit more for trips outside the city due to their performance on rougher and less maintained terrain.
3. Arch Motorcycle
Special surprise coming out of the collaboration with Keanu Reeves, Gard Hollinger and their company Arch Motorcycle. This impressive beast has a racing engine and dual exhaust to give it that satisfying "vroooom" sound.
Method 143 (Arch Motorcycle)
Other Vehicles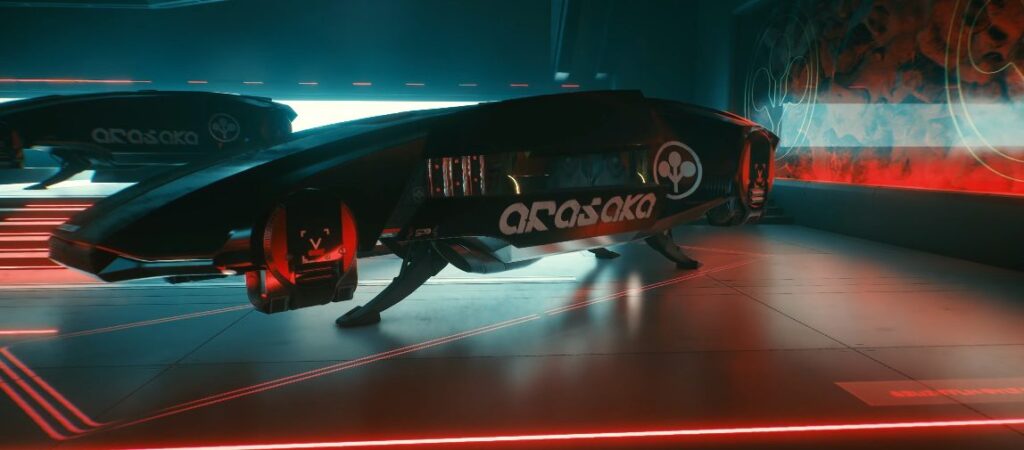 Johnny Silverhand's 911 Porsche
Johnny's special car will be featured in the game, bringing with it the true feeling of vintage and some interesting history. Speaking of vintage and history — this car was made in 1977, making it exactly a century old at the time when Cyberpunk 2077's main story unfolds.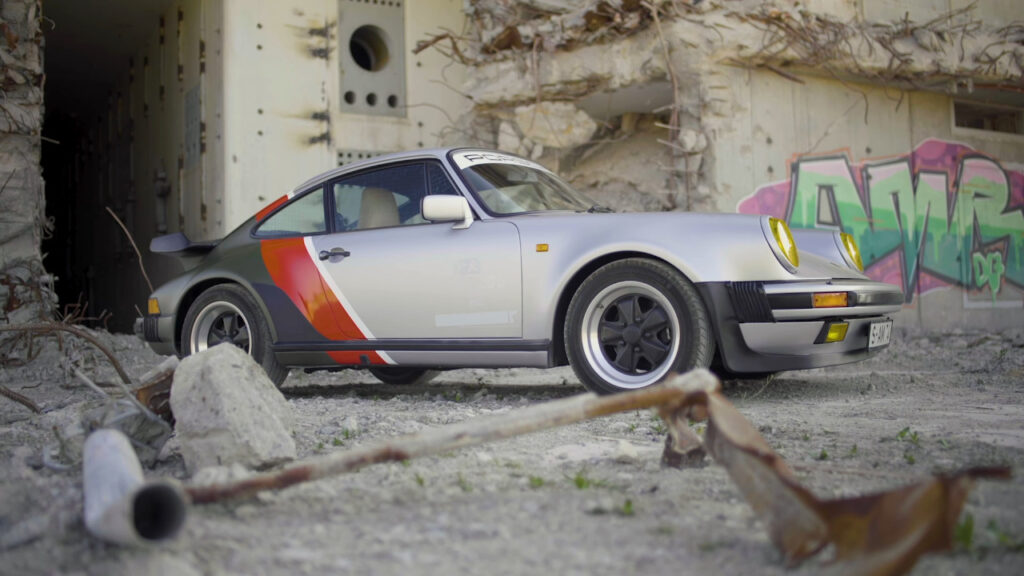 NCART Fast Travel
What started out as the subway feature in the game was modified to become NCART, the Night City Area Rapid Transit – Cyberpunk 2077's Fast Travel System. Scattered around the city are the access points you can easily access and jump between as needed after you locate them, saving yourself lots of time.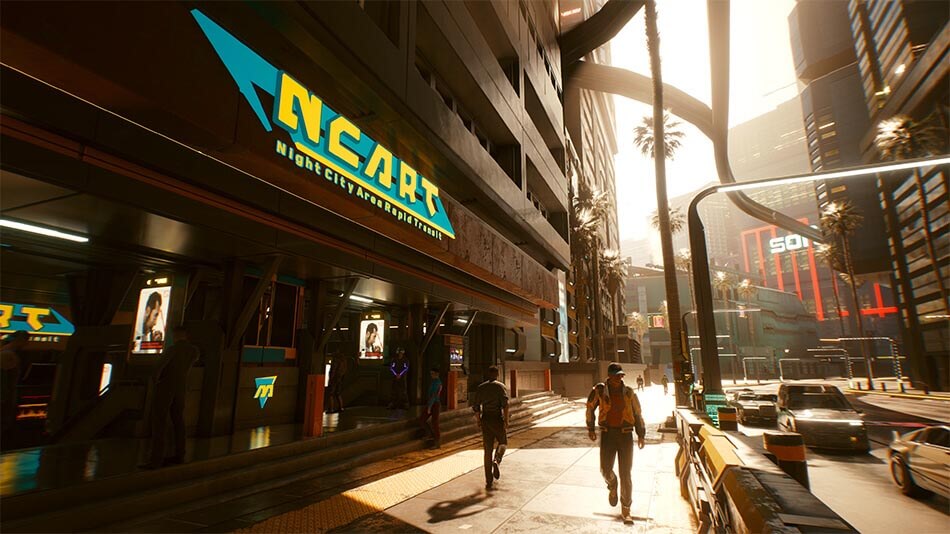 Yet, while the subway ride system was changed the older idea persists: there are many reasons for you to avoid Fast Travel to be exposed to the great number of opportunities of quests, secrets, and NPC encounters in the Night City. If you opt for slow travel you might spot a smuggling activity, a hiring opportunity, a search-and-recovery mission, a unique shop, meet a trainer, or find a restricted location, and that's without more unique quests and events scattered around the city.
Keep that in mind when you choose to quickly jump locations one extra time.
Delamain Cabs
We don't know much about the taxi system in Cyberpunk 2077, aside from them being provided by the Delamain transportation service, AI-driven, and not charging too much for the ability to go just about anywhere in the Night City. (We also know that there might be an interesting quest regarding your adventurous involvement with Delamain.)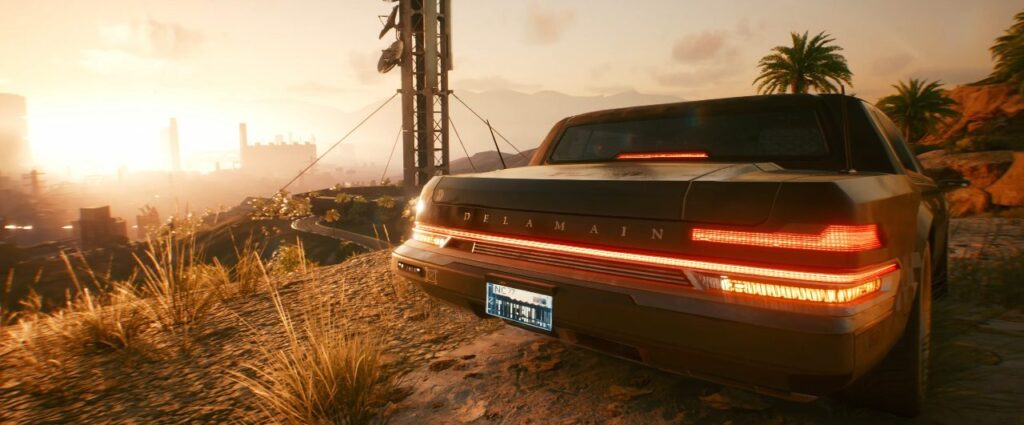 Military Ground Vehicles
It's unclear what role the military vehicles will play in the game, aside from serving as security measures to richer corporate people and often being produced by Militech and Arasaka manufacturers. However, you should look out for some of the versions of these military vehicles that were stripped of their security systems by the experienced Nomad engineers to be used for other purposes.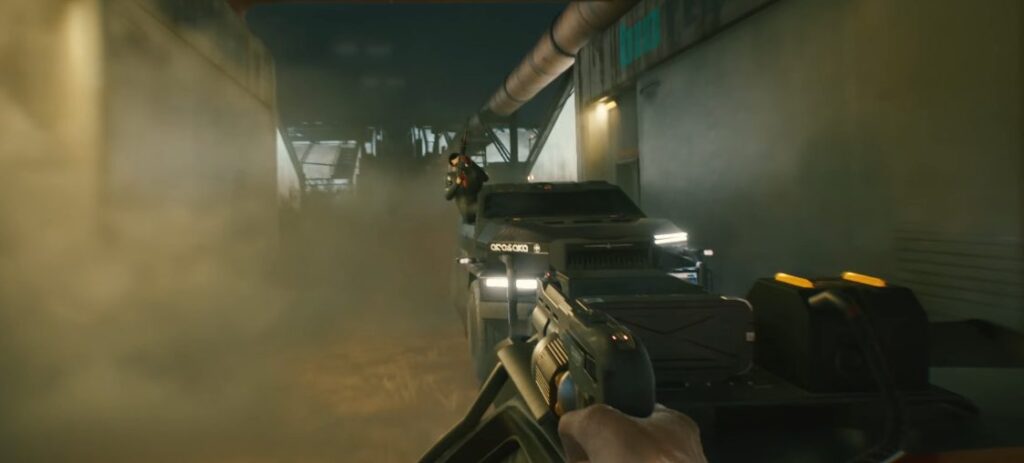 Air Vehicles
You will see a variety of AVs in the skies of the Night City, but don't expect to own one yourself (or even pilot one). You might be able to spot small AVs alike limousines or taxis, or larger utility AVs, like those transporting big freight containers. Of course, there are always the military AVs and security drones to look out for as well, often produced by Zetatech.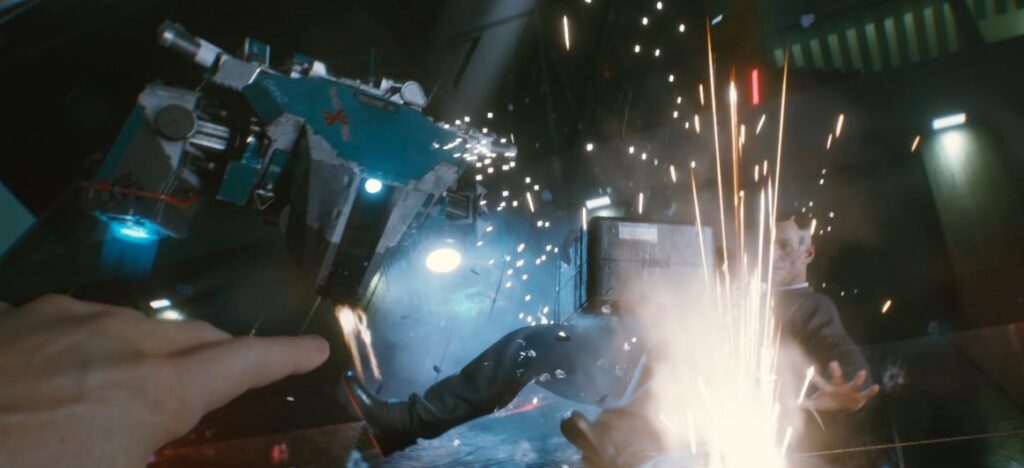 Still, even though you won't own one, we know there will be moments in the story where you could be flying as a passenger in a luxurious corporate AV and probably far more, so don't dismiss these vehicles as background props just yet.