Game:
Cyberpunk 2077
Content Type:
Gaming Guides
Maybe you're role-playing as a Samurai fan V, or maybe you just think the band's logo was cool. Either way, we've tracked down an out-of-the-way side quest that can net you some sweet Samurai vintage.
How to Access the Vintage Samurai Clothing
First you'll need to head to the Cherry Blossom Market in Heywood. If you don't have the fast travel point unlocked, you can head north from the Megabuilding H8 fast travel point, or use the Afterlife fast travel point and then head east across the bridge.
The market shouldn't be hard to find, as it sits at the feet of a pretty massive  statue.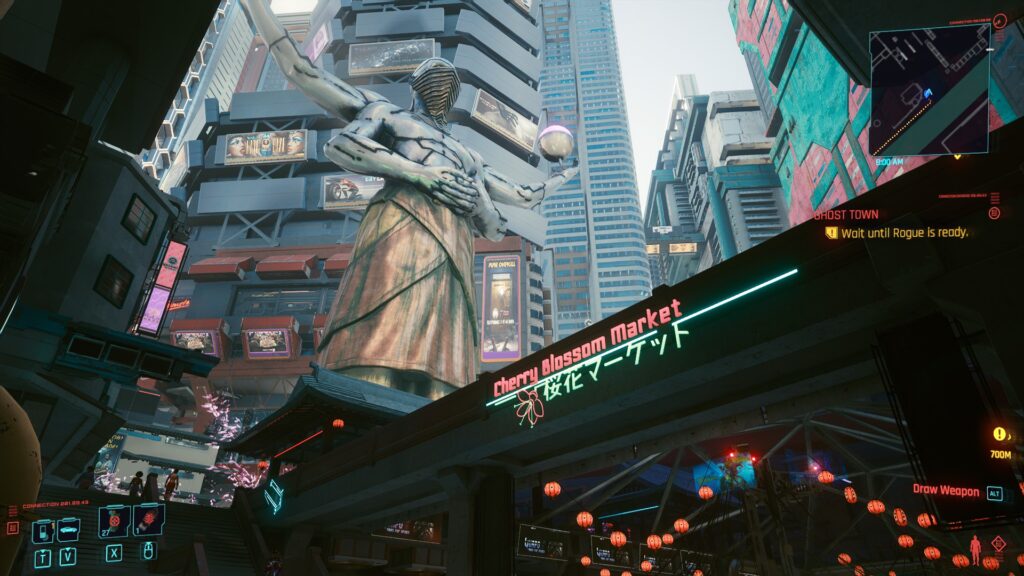 From the Cherry Blossom Market fast travel point, you'll want to turn around and head into the market. Go all the way to the other end, where you'll find a street musician. Get close enough, and Johnny will call your attention to the guy and start a conversation with you. Go through the dialogue with Johnny to unlock the quest "The Ballad of Buck Ravers". Don't forget to start tracking the quest to make finding the next spot easy (though it's really a 20 second journey).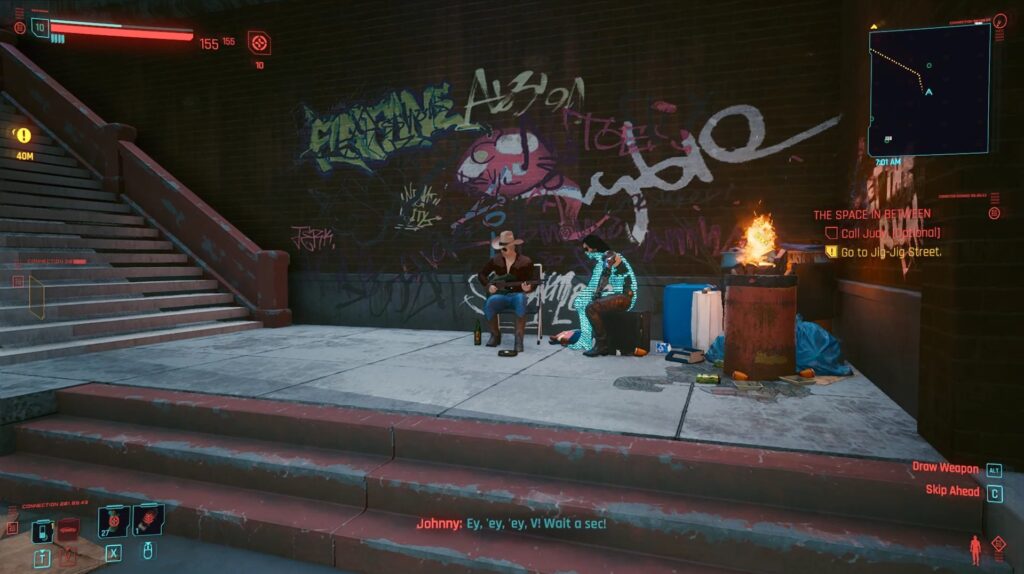 Your next stop is the former Rainbow Credenza club, which is now a noodle spot. Ask the guy inside about what happened to the old club, and he'll eventually send you right back out the way you came to find your next NPC in the questline.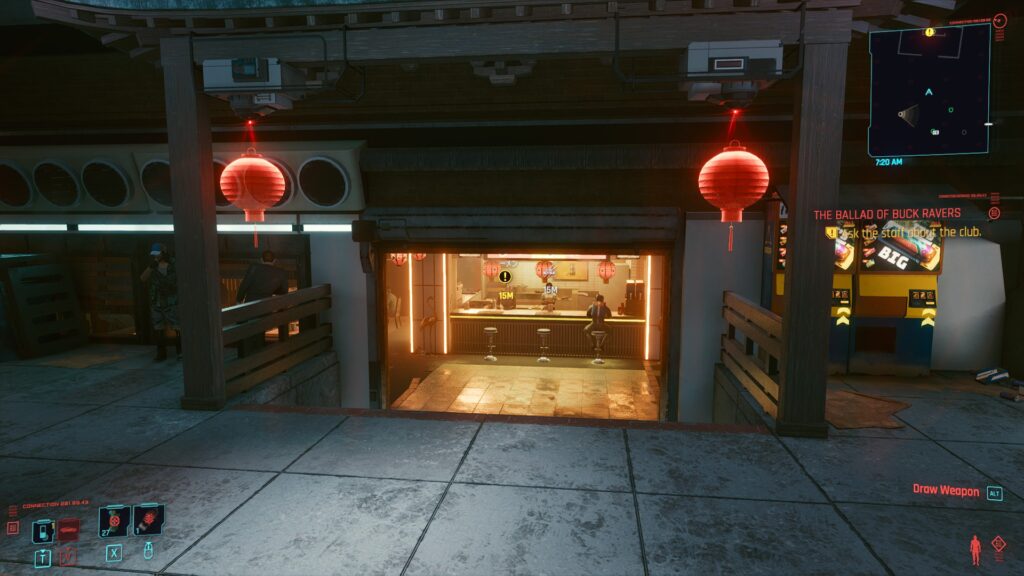 Your next conversation will be with Karim, who runs a little stall in the market. The aging rock fan will need some convincing, but with Johnny's help, he'll eventually consent to letting you peruse his wares. You'll be able to snag the bootleg Samurai recording and complete the quest, but what we're really here for is the other stuff he's got for sale, specifically some vintage Samurai threads.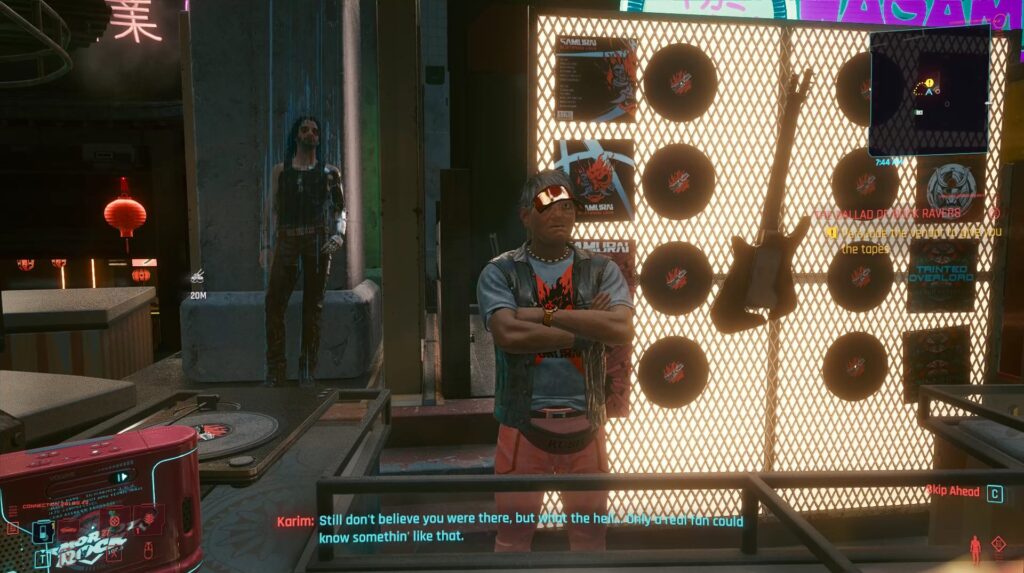 The Available Samurai Gear
There's quite a few choices for Samurai gear at Karim's shop:
Samurai 2020 Tour T-Shirt (Legendary) [Inner Torso]: 34.7 Armor, 4 Clothing Mod Slots
Second Conflict Flight Jacket (Epic) [Outer Torso]: 48.1 Armor, 2 Clothing Mod Slots
Samurai Sturdy-Stitched Cargo Pants (Epic) [Legs]: 19.7 Armor, 2 Clothing Mod Slots
Worn Samurai Cap (Rare) [Head]: 13.1 Armor, 1 Clothing Mod Slot
Stylish Polarized Aviators (Rare) [Face]: 11.3 Armor, 1 Clothing Mod Slot
Samurai Combat Turtleneck (Rare) [ Inner Torso]: 42 Armor, 1 Clothing Mod Slot
Vintage Samurai Strongweave T-Shirt (rare) [Inner Torso]: 37 armor, 1 Clothing Mod Slot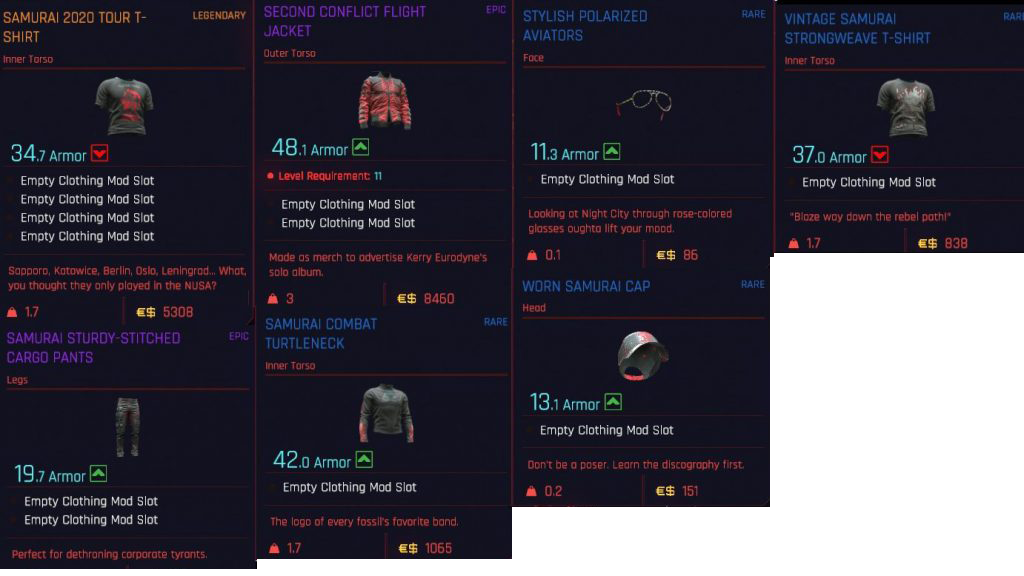 Too bad there isn't a record player in V's apartment so you could play the bootleg record you get, but at least you can walk away from Karim's stall repping Johnny Silverhand's band.
We hope this guide was helpful! Let us know in the comments if there's anything we missed, or if there's other parts of the game you'd like to see guides for.