Game:
Cyberpunk 2077
Content Type:
Gaming Guides
You will notice in the full list below that all Frontal Cortex Cyberware requires at least 6 or more Intelligence to use. It makes sense, then, that this category is designed for Intelligence-oriented builds.
However, if you have at least some points in this Attribute, there are probably a couple or more useful options for your character under this category — see our suggestions below!
(3 slots available)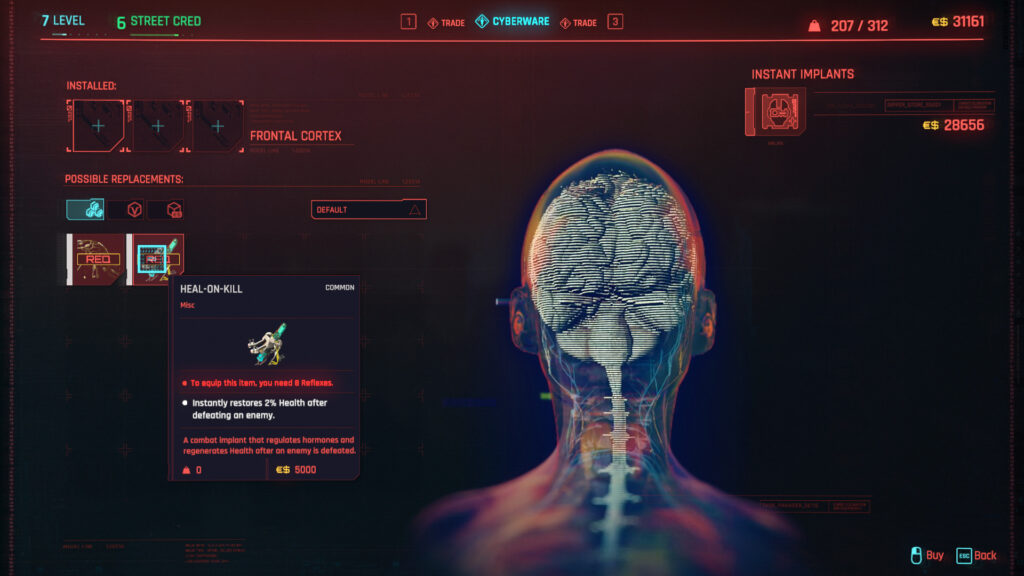 (Click here to return to our main Cyberpunk 2077 Cyberware Guide.)
Do I Need Frontal Cortex Cyberware?
You have 3 slots to play around with, and if you have 15-16 of points in your intelligence you can get Cyberware that can give you very high bonuses to Crit Chance (+25%) and Crit Damage (+45%), which go well with any DPS build.
Of course, the RAM bonuses are just amazing for a Netrunner build which should already have enough Intelligence for these augments.
Health restore upon kill is great for sustainability of melee or close-range builds. While the legendary variety of Heal-On-Kill requires 18 in Intelligence, you can grab the Common variety as long as you have 8 in the attribute.
Otherwise, if your character is low-Intelligence and you want to make use of empty Cyberware slots, you can grab the common-grade Limbic System Enhancement and Visual Cortex Support as long as you have 6 in the attribute. These will improve your Crit Chance by 7% and Crit Damage by 10% respectively. Even if this is all you can get from this category, there are no such things as a wasted bonus!
Frontal Cortex Mods
There are no mods available for Frontal Cortex Cyberware.
Where Can I Look For Frontal Cortex Cyberware?
You will find the majority of Frontal Cortex Cyberware in the collection of Cassius Ryder (the Ripperdoc located at Northside, Watson) or the unnamed West Wind Estate Ripperdoc (in the West Wind Estate, Pacifica).