Game:
Hogwarts Legacy
Content Type:
Gaming Guides
---
After completing Jackdaw's Rest you are now ready to finish Flying Class and unlock your own Flying Broom and the ability to Fly! This guide will guide you through Madam Kogawa's lesson… and a bit of an "independent study" you will get a chance to do after.
Quest Type: Main Story
Requirements:
Rewards:

260 XP
Flying Brooms (can be bought)
---
Fly Though the Rings Around the Grounds
The class itself serves as an introduction to flight mechanics, teaching you how to control your Broom. In true Hogwarts and Quidditch fashion, the tutorial is comprised of flying through Rings all around the Hogwarts schoolyard.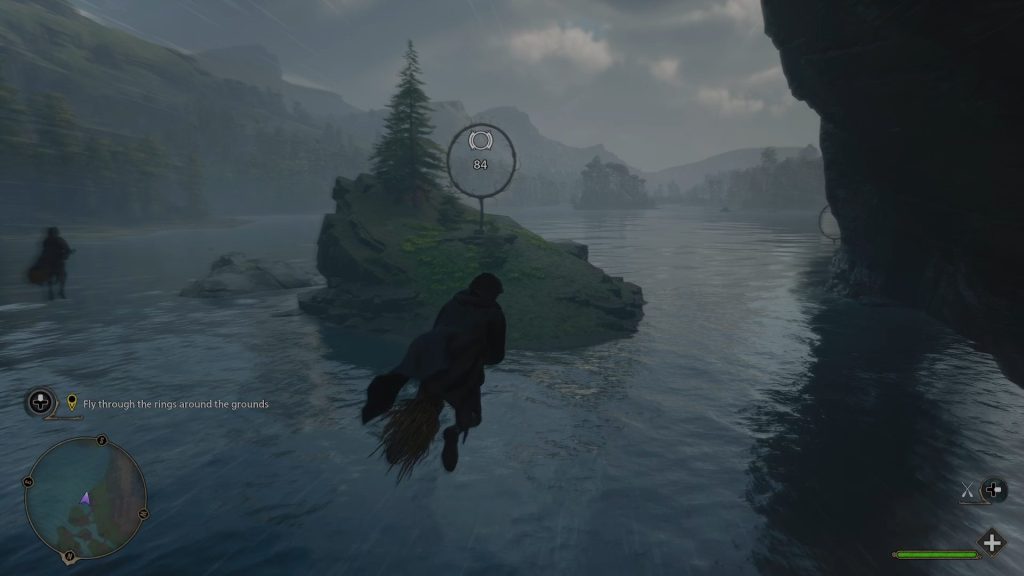 The rings you need to fly through are marked on your interface as shown in the image above, so it will be pretty hard to get lost during the course.
Broom Flight should be easy to grasp, with a very intuitive control scheme.
Broom Flight controls:
To move in any direction
To ascend or descend
For a Burst of Speed
(Hold) For Flight Speed
However, you will only gain access to the last two controls only after being suddenly stopped by a Ravenclaw student…
Follow Everett Clopton
After reaching a certain point of the course, a Ravenclaw student by the name of Everett Clopton will stop us and attempt to persuade us in skipping class and taking a detour. It's a part of the tutorial, still, so we will have to follow Everett across a rockier route, flying in between the castle towers and racing over its corridors and bridges.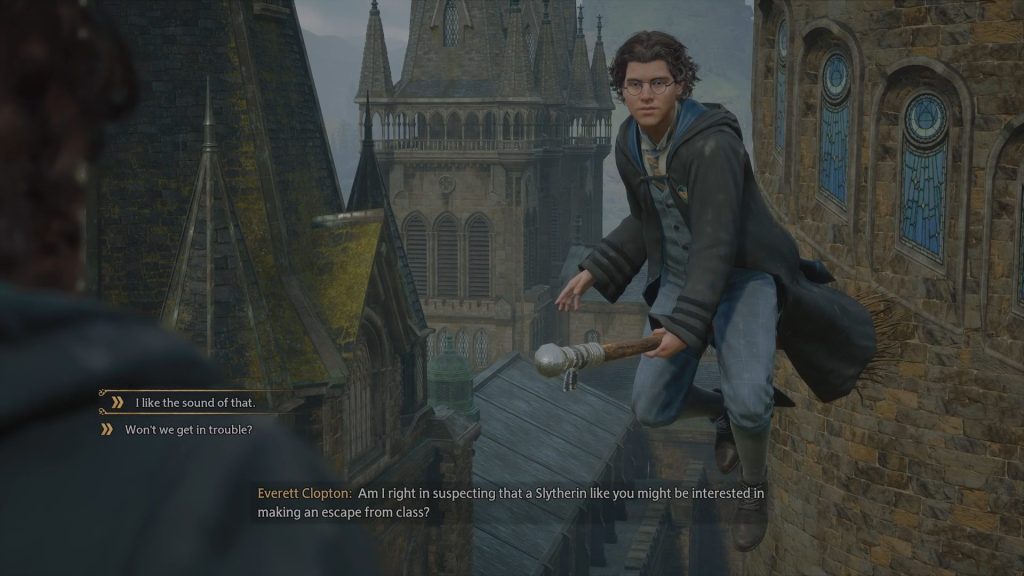 Everett introduces us to the remaining flight controls, teaching us how to maneuver our broom for maximum speed (Press the for a Burst of Speed).
He will further extend our tour, showing us the grounds along Hogwarts Castle, including the Quidditch Arena and the Owlery.
Once you finish Everett's Tour, you will be scolded by Madam Kogawa and receive your experience reward and the ability to ride a broom! However, you are required to return the broom you've been given during the Flying Class, which means that you will want to visit Hogsmeade and acquire a broom — look for "Flight Test" in your quest menu.
If you need help with the next steps towards getting your own broom, check out our How to Unlock Flying Brooms guide! Otherwise, the next quest is The Room of Requirement or Shadow of the Undercroft — both will become available now.
---