Game:
Hogwarts Legacy
Content Type:
Gaming Guides
While our encounters with the Dark Arts mainly came from the Defence Against the Dark Arts Class and the various enemies we encounter in the wizarding world, Hogwarts Legacy also allows us to become a Dark Wizard or Witch ourselves. In this guide, we will teach you how to play a powerful Dark Arts Build. We know that you are eager to join the dark covenant, so let's get down to it!
Disclaimer: This build was tested on the Hard Difficulty, and it turned out to be quite overpowered! On the lower difficulties it may result in one-shotting your enemies even without the use of

Avada Kadavra.
---
Build Talents
Gear
Make sure that each of your Gear Slots has a Legendary Gear piece in it! This will allow you to get the most powerful Stats and Traits. It does not particularly matter which Legendary Gear pieces you obtain, however, the Traits you pick will be quite essential towards maximizing your damage.
You will want the following 5 Traits on your Legendary Gear:
Unforgiveable III (Significantly increases damage dealt to Cursed Targets)
Cruelty III (Significantly increases the damage dealt by Crucio)
Concentration III (Significantly increases the damage dealt by All Spells)
Manipulation III (Singnificantly increases the damage dealt by the Imperio)
Ancient Magic III (Significantly increases the damage dealt by Ancient Magic)
The last Trait is entirely up to you — it can be Defensive or Offensive.
Here are a few suggestions:
Explosive III (Significantly increases the damage dealt by Bombarda)
Laceration III (Significantly increases the damage dealt by Diffindo)
Destruction III (Significantly increases the damage dealt by Confringo)
Control III (Significantly increases the damage dealt by Ancient Magic Throw)
Protego Shielding III (Significantly reduces the damage taken from Dark Wizards)
Goblin-Silver Resistance III (Significantly reduces the damage taken from Goblins)
Spells
The Dark Arts Build is a lot harder to play than most of the other builds in the game, mainly due to the fact that its spells and effects are either locked behind specific quests or talent points that can only be gained at a much later point in the game. What this does is enforce the idea that we will need to make use of our "normal spells" until we manage to actually learn any form of useful Dark Arts.
The build ends up going through multiple changes as you level up, each phase of it requiring a different set of Spells and a different mindset. First of all, if you look at our Talent Points, you will notice that some of the more overpowered ones are locked behind the Level 22 Requirement. This forces us to rely on other spells until we can reach the level threshold. Secondly, the build will have multiple forms of AoE available and multiple ways to apply the Cursed Status to a target, so we will likely find ourselves favoring different spell combinations during different parts of the game.
Though, the most powerful aspect of the build (especially so on the Hard Difficulty) is the fact that the Unforgivable Curses will break through any type of a Shield, allowing you to skip a few steps that would have been required for other builds.
Main Spells & Tools
Using Dark Arts in Combat
We know how tired you all are of your professors droning on and on that the Dark Arts is the absolute worst possible path you could pursue as a Wizard or a Witch… so, we will now teach you how to become a master of Dark Magic and show them all, once and for all, what the Dark Arts are actually capable of!
As stated previously, the Dark Arts Build goes through different stages as you level, meaning that you will have to use a different set of spells at different points of your journey. So, you will probably find yourself dispatching foes in the early parts of the game with more trivial spells, such as

Levioso,

Incendio, and

Accio. Rest assured, that won't be the case for long!
Then, we will need to learn our options for Offence and Defence with this build. For the Defence, you can rely on a mix of Dodge,

Protego, Swift, and Edurus Potion throughout the majority of the game, with an emphasis on Edurus Potions later on, when you acquire the Edurus Potion Potency talent.
You will always want to use Protego when you are prompted.
Keep in mind that you can use either normal Dodge to escape unblockable attacks and fill your Ancient Magic Bar, or you can use Swift to just reposition yourself.
Now, let's dive into the Offence and the destructive, deadly instruments offered by the Dark Arts. Here we will need to break things down into sections, since many of our main toold will be gated behind quests and talent points.
Early Game (Level 1-15 or 20)
The first 15 to 20 levels of the build will be quite chaotic, as the dark path often is. You will learn how to place the Cursed Status on your foes with two spells:

Stupefy and

Expelliarmus. Both are quite powerful early on, as they both incapacitate your foes — the first one simply stuns them, while the other disarms them.
Try to synchronize your

Protego blocks perfectly to negate any damage, and then apply the Cursed Status with

Stupefy while using

Expelliarmus on another enemy.
After reaching level 15 and onward, you will get some AoE capabilities with

Confringo and

Bombarda, but you will not have any means of cursing multiple opponents at the same time just yet. Depending on how you acquire your levels (that is, by completing main quests and side quests or by completing challenges and fighting random enemies), you may already have access to

Crucio or you may yet require more time to learn it.
Effective Spell Combinations
Mid-Game (Level 20-29)
Between Levels 20 and 29, your build will begin to stabilize and finally gain the powerful effects you have been coveting all this time… you can now finally start to call yourself a proper Dark Wizard or a Dark Witch! With the talents you unlock you will increase your overall survivability, starting to add potions into the mix. You will also gain multiple ways of applying the Cursed Status and you can now get access to all of your Dark Arts Spells (provided you complete the quests for them from Sebastian).
Now here is the part where your playstyle begins to shift — where

Stupefy and

Expelliarmus were your main ways of applying the Cursed Status early in the game,

Crucio will now replace them. Thanks to the Crucio Mastery talent, our first Dark Spell can now send bolts of dark magic to both curse any enemy hit, while also dealing damage! This means that we now have some potent AoE capabilities, considering that all Cursed Targets receive a portion of the damage dealt to any single Cursed target. You should also begin to make use of

Imperio by turning the most powerful foe that tries to attack you into an ally.
If you already used Crucio and more enemies appear, you can now apply the Cursed Status with Flipendo and Arresto Momentum as well!
Depending on whether you have acquired Avada Kadavra by now, you will always want to use it on the strongest enemy — especially Trolls or Dark Wizard Duelists.
Effective Spell Combinations
Endgame (Level 30-40)
Towards the endgame, you will entirely master the Dark Arts and make full use of your potions to become a real menace, a destructive force! Your playstyle will once again shift; now you have two choices during battle: you can either destroy any enemy group in mere seconds, or… you can choose to toy with them a little bit.
If you decide to be a merciful Dark Overlord, you can choose to murder everyone in your sights in mere moments by using the following combination:
Thanks to the Avada Kadavra Mastery talent, our

Avada Kadavra will now affect all targets afflicted by the Cursed Status effect. Yes, young dark practitioners, you heard me right — you can now instantly AoE murder everyone in just a few seconds. This combo can be done on any enemy type, no matter their level or type! However, this won't work on bosses.
If you choose to toy with your enemies… well, that will still be quick as well, only now you get more options! The last parts of the build emphasize the buffs from

Protego and

Stupefy that make you a walking fortress. In addition to that, by adding the effects of our previous talent choice, such as Edurus Potion Potency, Maxima Potion Potency, and Focus Potion Potency, we can effectively become immune to damage, spam our spells, and have increased overall damage on top of our Cursed Effect. Your spell combinations will be the same as for the last two stages if you choose this approach in combat.
For the second option, we would like to show you how our build would deal with a boss, The Absconder.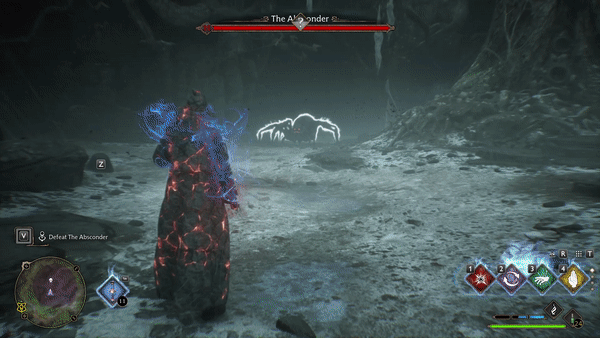 Spells and Effects used in this encounter:
Have fun.
---
Now that you are on a path of mastering the Dark Arts, we hope you will find joy in tormenting as many of your enemies as possible. Enjoy the dark side, my lovelies. Let us know in the comment section below which powerful foes you managed to instantly vanquish with the Dark Arts Build!