Game:
Hogwarts Legacy
Content Type:
Gaming Guides
---
You will receive a notification that Sebastian and Ominis are arguing in The Great Hall. You should go and see what it's about. This is the start of the Relationship Quests for

Sebastian Sallow.
Quest Type: Relationship Quest
Location: The Great Hall, Hogwarts Castle, Highlands (map)
Requirements
Rewards

Unlock In the Shadow of the Study
---
Speak to Sebastian

Sebastian and Ominis will be in the northwest corner of The Great Hall arguing pretty loudly about the dark arts. The quickest way there is to fast travel to The Great Hall Floo Flame location. You can listen to their short conversation, then speak with Sebastian to get the details. If pressed, Sebastian will disclose to you the tragic relationship that Ominis has with his family and their links to dark magic, and the

Crucio Curse.
What's more, Ominis learned from his family that there is a hidden 'scriptorium' that belonged to Salazar Slytherin in Hogwarts Castle.

Sebastian is convinced that there might be information in this chamber to help his sister, but Ominis, understandably, wants nothing to do with the black arts or Salazar. Sebastian says he will try to persuade Ominis, and reach out to you via owl in the immediate future.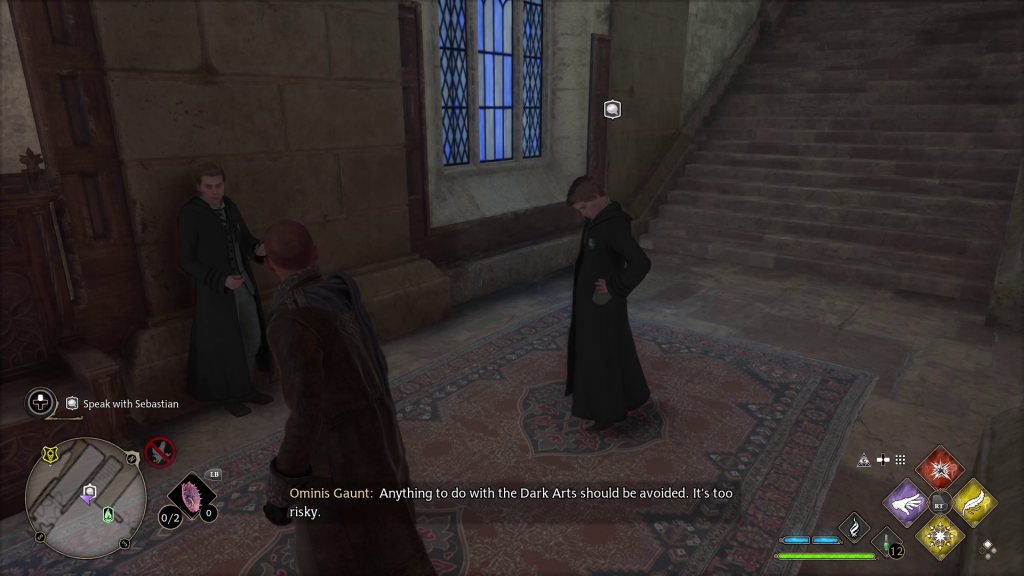 The quest is complete after the dialogue, but don't worry, the next mission is much more substantial.
---