Game:
Hogwarts Legacy
Content Type:
Gaming Guides
---
After you succeed in your first duel in Crossed Wands: Round I, Lucan will happily offer you the opportunity for a second round if you are willing to test your wizarding mettle (of course, you don't have much of a choice since this is a tutorial mission).
This is the last duel you will need to complete for Professor Hecat's Assignment, but later on there will be an option for another round in Crossed Wands: Round III, if you wanted to unlock the Champion's Garb.
Quest Type: Side Quest
Location: Clock Tower, South Wing, Hogwarts Castle (map)
Requirements:
Quest Reward:
---
Talk to Lucan Brattleby in the Clock Tower
Whether you approach Lucan right after your first round or try out the Testing Dummy and explore Hogwarts for a while, it is entirely up to you. Lucan Brattleby will await your return for the second Round of the tournament.
To start this quest, you will want to make your way to the Clock Tower and talk to Lucan again. He will be in the same corner as last time.
Beginning of the Second Round
The second Round of the tournament will be quite similar to the first one, only this time Lucan will ask you whether you want to pair up with a companion or attempt the fight on your own.
You can either choose to pair up with Natsai Onai, Sebastian Sallow again, or fight the duel solo — the last option is more difficult.
The second round of Crossed Wands will be a bit tougher than the previous one. This time, we will be fighting against 3 students instead of 2, with their levels matching yours — though, the objective is still the same; defeat all three by whatever means necessary (you can even use Stupefy instead of Force Spells, as we will mention below).
The overall difficulty here will depend entirely on whether you choose to fight alone or bring a companion.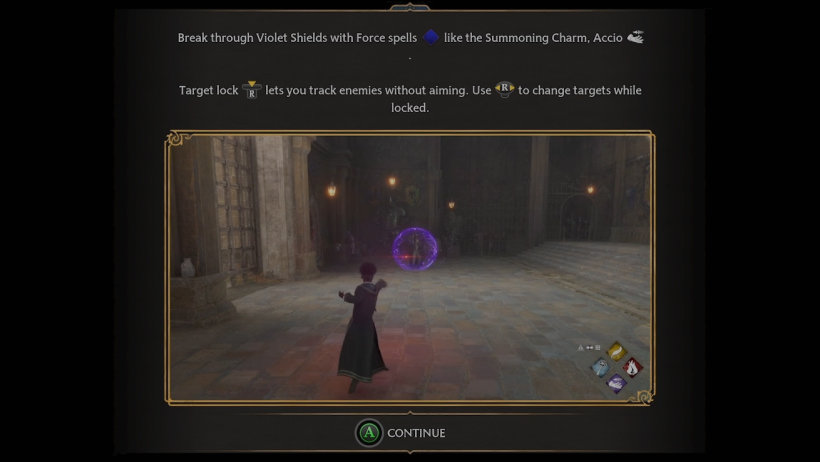 We will be taunted by our smug opponents and immediately prompted with a tutorial screen afterward: this time, two of your opponents will use Violet Shields, and one will use a Yellow Shield.
We will learn that we can break Violet Shields by using Force Spells such as Accio.

Even though the tutorial doesn't mention this, you can also use Stupefy to break a Shield (see image above).

The tutorial also reminds us about the "Target Swapping" mechanic (use the button to track your enemies without aiming and your stick to cycle through your targets.)
Keep in mind that you should dodge as much as possible and make use your Protego spell!
Round Completion
Upon completing the round, Lucan Brattleby will talk to you and advise you to keep practicing if you want to "survive" the next round — he will let you know when it will be ready for you (after you complete Tomes and Tribulations).
This will complete part of Professor Hecat's Assignment I. Use the Training Dummy you unlocked to finish it.
---