Game:
Hogwarts Legacy
Content Type:
Gaming News
Date: September 14, 2022
From the final release date to the contents of the various editions of the game, the team behind Hogwarts Legacy has been spoiling us with reveals lately. And that trend shows no signs of stopping: during the latest PlayStation State of Play presentation, we were treated to yet another new trailer. While it doesn't show any new gameplay (darn!), we did learn that the PS4 and PS5 versions of the game will get an exclusive quest called "The Haunted Hogsmeade Shop".
You can check out the full trailer from the State of Play here:
This exclusive quest focuses on a woman named Cassandra Mason, who is seeking to sell you a shop. But all is not as it seems in the Hogsmeade locale, for it appears to house frightening secrets in its haunted basement. Perhaps those secrets will help you uncover why Cassandra is willing to part with the place on such "generous terms" or what sort of "rotten bad luck" befell the previous tenants? Only time (and completion) will tell.
Completing this quest will grant you a couple of rewards. First, you will get the titular Hogsmeade Shop for yourself. Here, you will be able to sell items and gear. In addition to the shop, you will also earn the Shopkeeper's Cosmetic Set to wear.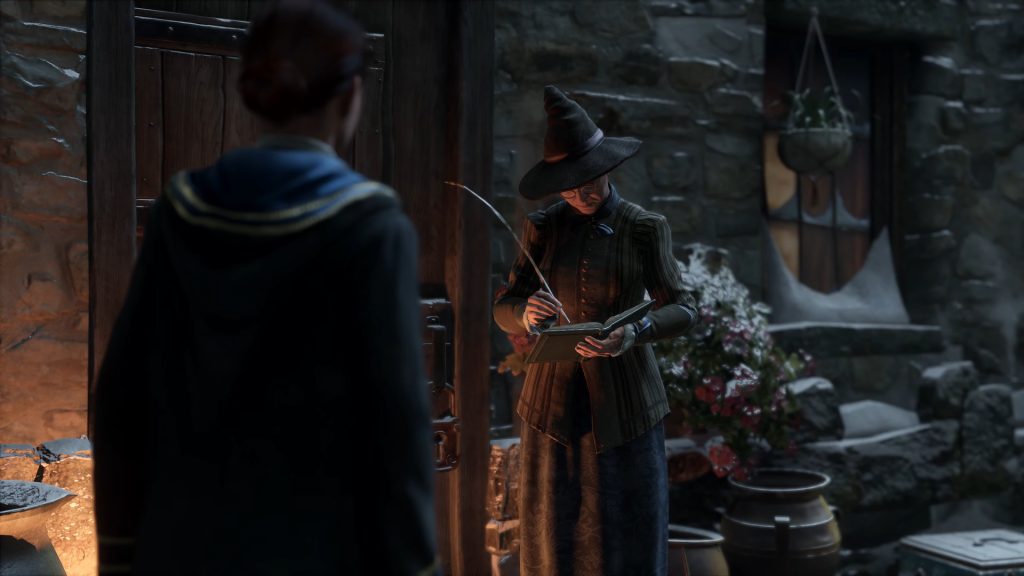 But that's not all! The PlayStation blog post about this quest reveals yet another exclusive, unrelated to the quest: if you preorder Hogwarts Legacy for the PS5 or PS4, you will get the recipe for the Felix Felicis potion. This handy potion will reveal gear chests on the mini-map for one in-game day, making locating that elusive treasure much easier. Because this is a recipe, you will be able to make as many of these as you want in the Room of Requirement, if you have the materials.
There is no word yet on whether non-PlayStation players will be able to earn the Hogsmeade Shop or the Felix Felicis potion recipe from somewhere other than the exclusive quest. However, with Hogwarts Legacy's February 10, 2023 release date, it is safe to assume we will get more information on this quest — and any other exclusives — as launch approaches. After all, eager witches and wizards will need to know which version they want to get!