Game:
Hogwarts Legacy
Content Type:
Gaming News
Date: August 24, 2022
Since Hogwarts Legacy has been announced, there hasn't been much information about what versions of the game would be available for fans to order (aside from leaks). This is quickly getting fixed, however — during the Gamescom opening night, we were shown the contents of the Digital Deluxe Edition, and now a new video showing what the Collector's Edition contains has been released! Let's take a look.
What's Included in the Collector's Edition?
First, we got to hear about digital contents of this version of the game at Gamescom, presented by Chandler Wood, the Avalanche's community manager. We also were able to see how all of this looks like in-game:
Dark Arts Cosmetic Set – gives your character a Dark-Arts-inspired look.
Dark Arts Garrison Hat – another piece inspired by Dark Arts from the Digital Deluxe edition.
Dark Arts Battle Area – a unique area in the game. However, there were no details given on what you can do there.
Thestral Mount – a unique mount that players can't get by any other means.
72 Hours Early Access – allows you to play the game 3 days early!
Kelpie Robe – a robe that is exclusive to this edition.
We then saw physical contents of Hogwarts Legacy Collector's Edition, which comes in a special box with custom artwork:
Steelbook Case
Ancient Magic Wand
Book containing a map of Hogwarts

The book can be plugged in to give it power, which will allow your Ancient Magic Wand to float on top of the pages!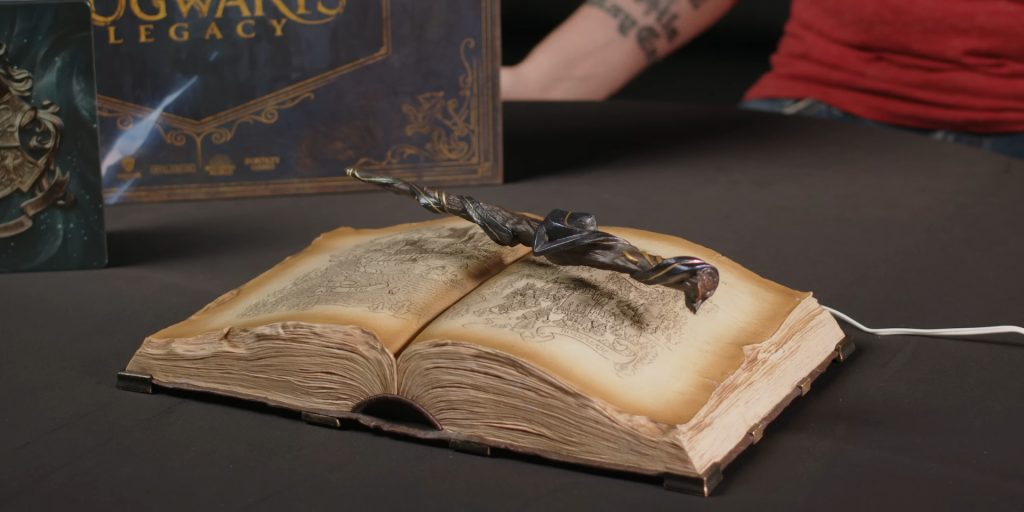 Pre-orders for Hogwarts Legacy, including the Collector's Edition, will begin on August 25th at 8AM PT. The Collector's Edition looks to be an amazing addition to the collections of excited fans of the Wizarding World!