Game:
Gotham Knights
Content Type:
Gaming Guides
Scattered throughout the city of Gotham Knights are Secret Caches that act as a collectible. While called Secret Caches, they are actually hidden audio recordings from Bruce Wayne. You will be able to start collecting them once you complete Case 01, and there are 12 spread out across Gotham City.

Once available for collection, the Secret Caches will be marked on your map with a white briefcase. When you make it to the map location, activate a plate on the ground to start a short time trial — you will have to go through all of the blue markers that show up within a time limit. Once completed, your AR will point you to the cache, which will be close to where the trial ended.
You will not be able to grab all of them at once, however. Only a certain amount will be shown at a time, and once you find all the Caches currently marked, you will have to go to the Belfry for new locations to be added. Alternatively, if you quit the game after finding all the Caches on the map, the new batch will appear when you reload it. What this means is that after finding the first Cache, the second batch will show up; once you've collected all the Caches in the second batch, the third will show up, and so on.
Here are the locations of all the Secret Caches in Gotham Knights:
Cache #1 – Financial District
Cache #2 – Financial District
Cache #3 – The Cauldron
Cache #4 – Southside
Cache #5 – Old Gotham
Cache #6 – Tricorner Island
Cache #7 – Bowery
Cache #8 – Otisburg
Cache #9 – West End
Cache #10 – Gotham Heights
Cache #11 – Bristol
Cache #12 – Bristol
Below, you'll find maps and details on where to find all the caches.
First Cache
The first Cache will be found in the Financial District, on the roof of a building Southwest from the Elliot Center.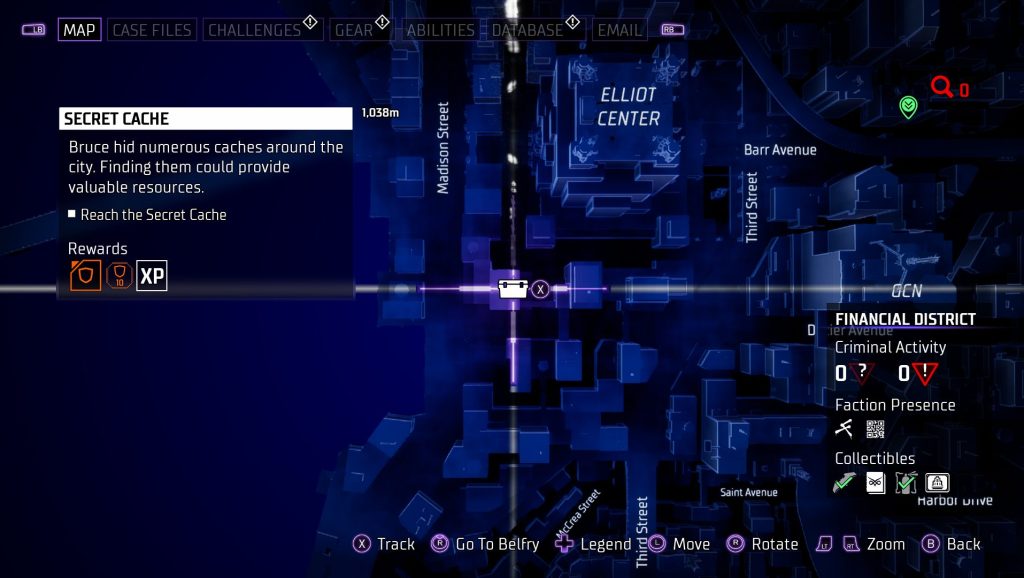 Second Batch
Third Batch
Final Batch
---
Finding all of the Secret Caches will unlock the

Knight Ops suit for Transmog and the Steel Colorway for the Batcycle. You will also earn the 'Gotham City Confidential' achievement.