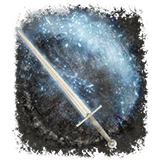 Ash of War: Chilling Mist
Game: Elden Ring
This Ash of War grants an armament the Cold affinity and the following skill: "Chilling Mist: Coat armament in frost, and then slash, spreading frigid mist forwards. The armament retains its frost for a while." Usable on melee armaments (whips, fists, and claws excepted).
Ash of War: Chilling Mist
You can find the Ash of War: Chilling Mist on a loot beetle found northwest from the Caria Manor dungeon, in Liurnia of the Lakes.