Game:
Elden Ring
Content Type:
Gaming Guides
Offering everything from 6-player free-for-all to one-on-one duels, the Colosseums are the first Elden Ring DLC. In this guide, we'll showcase three of the best PvP builds to take into battle.
What Are the Colosseums
The Colosseums offer a way for players to engage in PvP without using summoning signs or invading. There are three Colosseums: One in Limgrave, another in Caelid, and the third in Leyndell, Capital City. Beyond their unique aesthetics, each Colosseum hosts individual game modes. The Limgrave Colosseum hosts United Combat (3v3 team battles) and Combat Ordeal (free-for-all). The Leyndell Colosseum exclusively hosts 1v1 dueling. The Caelid Colosseum hosts all modes, with the exclusive ability to use Spirit Ashes.
If you need help finding and unlocking them, check out our guide on the Colosseums.
Lord of Blood Build
Have you ever wanted to serve the Formless Mother and become the next Lord of Blood? In that case, this is the build for you! This is a high Arcane/Mind build, so those stats will be prioritized. While this build works towards any level, we recommend leveling to at least 150 before entering the Colosseums.
What this Build is for
This build aims to maximize blood loss buildup and maintain distance. It's no surprise that bleed is still breaking Elden Ring in terms of damage numbers. With the Rivers of Blood Katana getting nerfed in the recent update, the Spear of Mohg seemed to be the perfect replacement.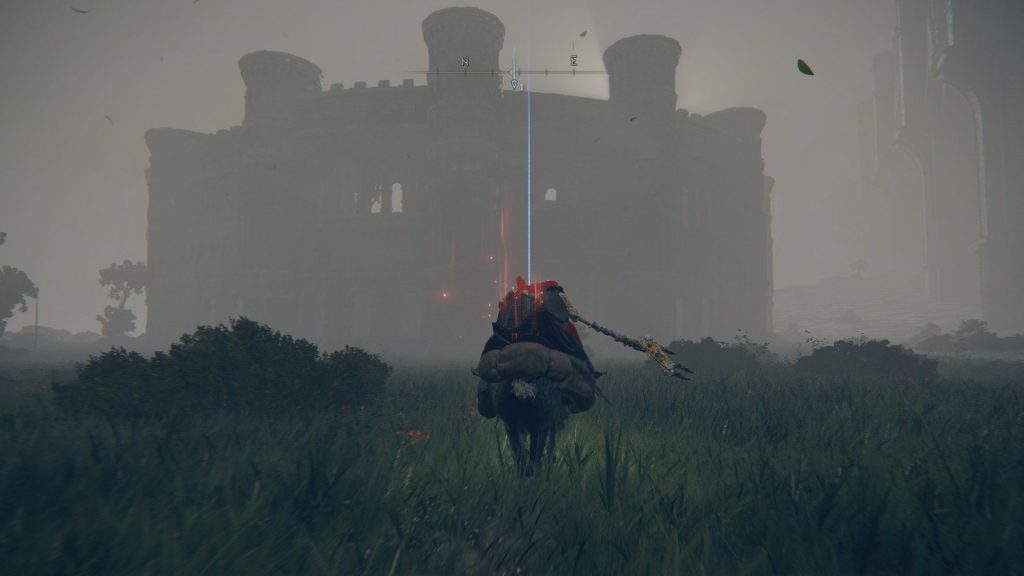 Stat Priority
Arcane
Mind
Vigor
Faith
Strength
Intelligence
Endurance
Dexterity
Level 150 Stat Spread
Arcane – 45
Mind – 43
Vigor – 40
Faith – 31
Strength – 24
Intelligence – 17
Endurance – 16
Dexterity – 13
The Build
These are the weapons and items needed for this build:
Weapon + Seal
Incantations
Talismans
Rotation + Strategy
Start the fight by casting Swarm of Flies twice at a distance.
Use Bloodboon Ritual and watch their hp melt.
Keep your distance, you will be vulnerable to close-range attacks from weapons.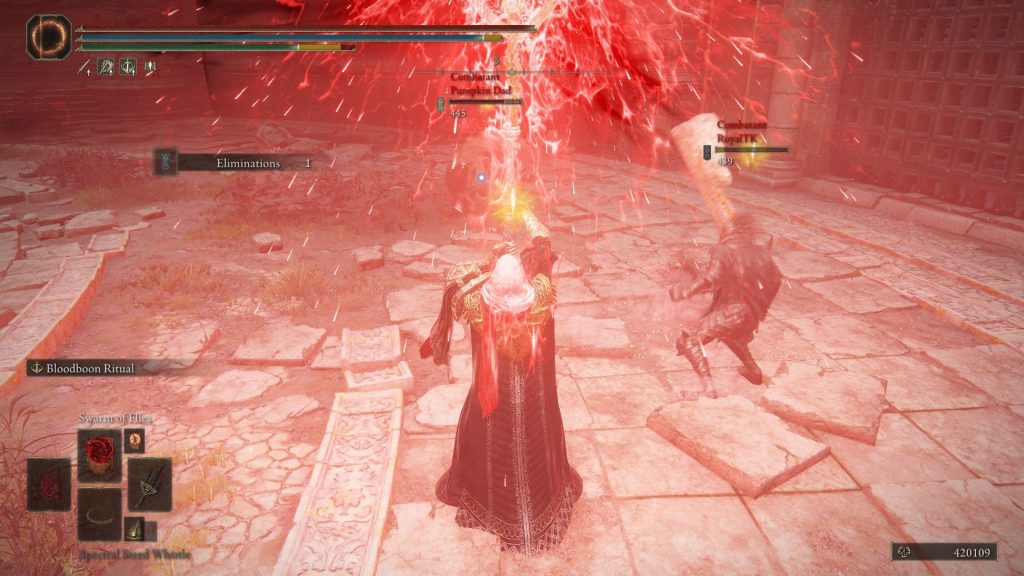 Holy Crucible Knight Build
This build is for those who always liked to be the Paladin of the party. Being a holy blade of fury, this build will prioritize Strength/Faith. This build will use a close-range weapon as well as faith-scaling Incantations. This build is tailored to level 150.
What This Build is For
This build will be tailored towards a swordsman playstyle, getting in for close attacks and using incantations when needed. Playing with this build will maximize damage during 1v1 duels. The incantations used will be helpful in both 1v1 and free-for-all.
Stat Priority
Strength
Vigor
Faith
Endurance
Mind
Intelligence
Dexterity
Arcane
Level 150 Stat Spread
Strength – 55
Faith – 44
Vigor – 37
Endurance – 31
Mind – 26
Intelligence – 16
Dexterity – 13
Arcane 7
The Build
These are the weapons and items used for this build:
Weapon + Seal
Incantations
Talismans
Rotation + Strategy
Start any fight by cast Golden Vow, better to start off with as much damage negation as possible.
Cast Aspect of Crucible: Horns to close the gap between opponents.
Use the Ordovis's Vortex skill to start dealing physical and holy damage.
Back away from the enemy, give them some false distance while using Aspect of Crucible: Breath to keep them from getting too close.
As stated, use Wrath of Gold if the fight isn't turning in your favor, and use the opening created to get in some extra damage.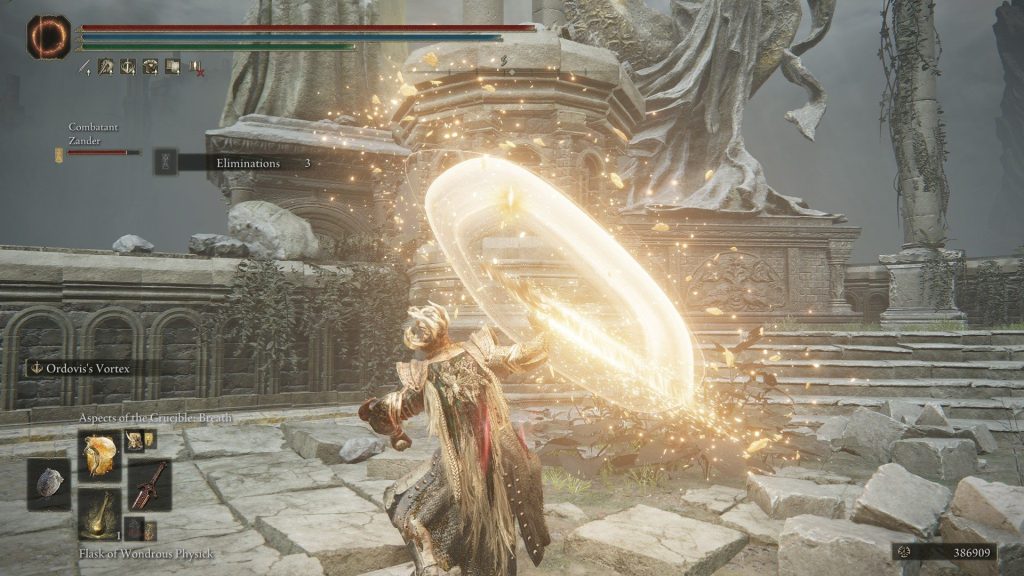 Death Samurai Build
For those looking for an epic anime-style fight, this build is perfect. This build is meant to focus on mobility and quick damage over everything. This will primarily be a build scaling with Dexterity/Strength. This build is also tailored for level 150.
What This Build is For
This build is for those trying to be the fastest hitter on the battlefield, able to control distance easily. The idea of this build is to utilize two Katanas in the right-hand slot with one seal in the left hand. This build will be using a few Ashes of War and an incantation.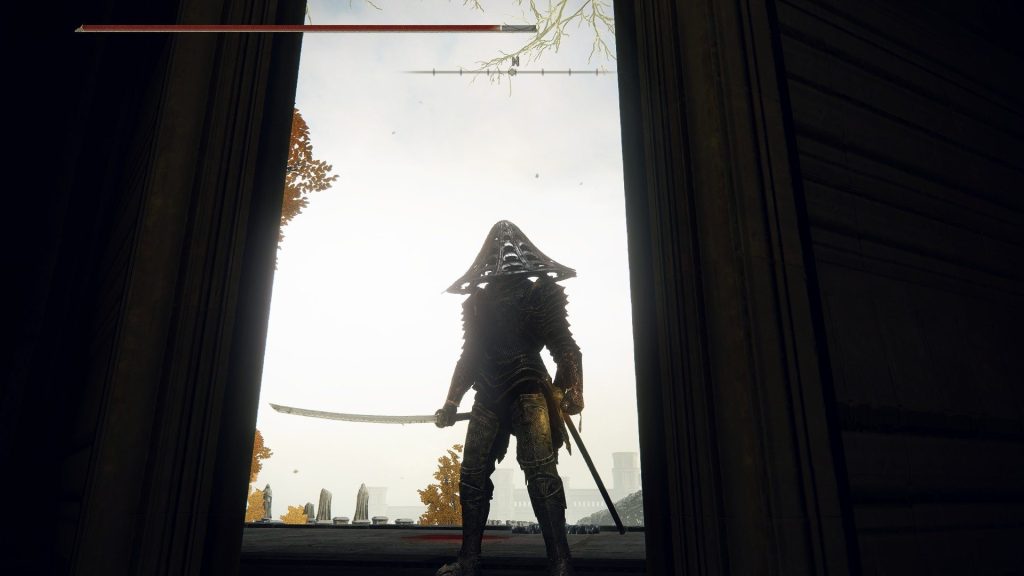 Stat Priority
Strength
Dexterity
Vigor
Endurance
Mind
Faith
Intelligence
Arcane
Level 150 Stat Spread
Strength – 55
Dexterity – 45
Vigor – 43
Endurance – 30
Mind – 24
Faith – 15
Intelligence – 9
Arcane – 8
Weapons + Seal
Ashes of War + Incantation
Talismans
Rotation + Strategy
When the fight begins, cast Electrify Armaments on the Uchigatana with Bloodhound Step. Start teleporting around the area and begin toying with your opponent, strike, then move back and create distance.
Regain some health and stamina after your attacks, then use Lightning Slash to surprise your enemy and utilize that extra reach.
Keep using Bloodhound Step to step in, get in some strikes, and step out of the enemy's range.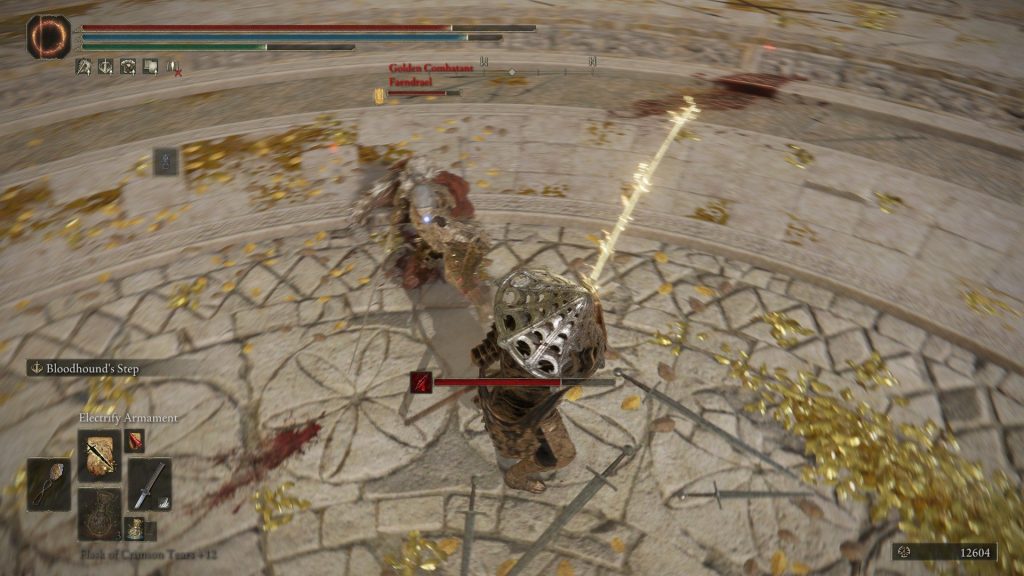 ---
We hope this guide was helpful! Please feel free to comment or check out our other guides.