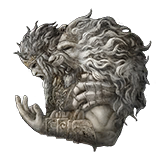 Godfrey Icon
Game: Elden Ring
Increases the damage of charged spells and skills by 15%.
Weight: 0.8
Legendary
A legendary talisman depicting the Elden Lord Godfrey. Raises charge attack power of sorceries, incantations, and skills. Godfrey was a ferocious warrior. When he vowed to become a lord, he took the Beast Regent Serosh upon on his back to suppress the ceaseless lust for battle that raged within.
Where to Find the Godfrey Icon
Drops from the boss of the Golden Lineage Evergaol on the Altus Plateau — see walkthrough for details on reaching this location.