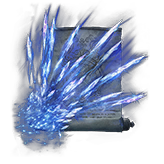 Shattering Crystal
Game: Elden Ring
Creates crystal mass that shatters in forward burst
Spell Category: Sorcery
Slots Used: 1
FP Cost: 32
Stamina Cost: 35


Attack Power: • Magic 127 • Stamina 15


Attributes Required: Intelligence 38
Sorcery of the mysterious Crystalians. Creates a mass of crystal, then shatters it in a forward burst. Charging enhances potency. The Crystalians are inorganic beings, yet they live. They cleave close to the ideals of the primeval current, and as such, they are revered guests of the sorcerers.
Where to Find the Shattering Crystal
You can find this spell in the Academy of Raya Lucaria — you'll need to get onto the rooftops and make your way to the section where you can get onto the rafters of the Church of the Cuckoo. The item is found by dropping from the rafters to the walkways below, it's on a corpse against a northern wall. See this section of the walkthrough for details on acquiring.