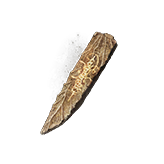 Sanctified Whetblade
Game: Elden Ring
Grants choice of affinity upgrade to weapon
Key Items
Maximum Held: 1
Sanctified whetblade with a cipher engraved. Can be used as a whetstone knife. When applying an affinity using physical or golden-type ashes of war, an additional affinity of sacred or lightning can be chosen.
Where to Find the Sanctified Whetblade
Found in the Fortified Manor (a version of Roundtable Hold) in Leyndell, Royal Capital — see Part 4 of Leyndell walkthrough for details on acquiring.