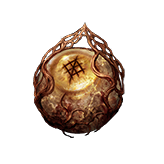 Radagon's Scarseal
Game: Elden Ring
Raises Vigor, Endurance, Strength, and Dexterity by 3, but increases damage taken by 10%.
Weight: 0.8
An eye engraved with an Elden Rune. Said to be the seal of King Consort Radagon. Raises vigor, endurance, strength, and dexterity, but also increases damage taken. These seals represent the lifelong duty of those chosen by the gods.
Where to Find Radagon's Scarseal
You can get Radagon's Scarseal as a reward for defeating the Ancient Hero of Zamor boss in the Weeping Evergoal, found west of the Weeping Peninsula.