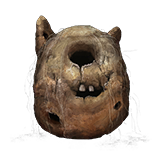 Prattling Pate "You're beautiful"
Game: Elden Ring
Emits a voice that says "You're beautiful"
Tools
Maximum Held: 1
Twisted clay sculpt in the shape of a demi-human head. Emits a voice that says "You're beautiful." A wistful fetish that imparts voices and words on an eternal journey. Unconditional love. Unrestrained assurance. It must have been a mother speaking.
Where to Find the Prattling Pate "You're beautiful"
You can find it in the village east-northeast of the Craftsman's Shack, in Mt. Gelmir.