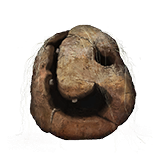 Prattling Pate "My beloved"
Game: Elden Ring
Emits a voice that says "My beloved"
Tools
Maximum Held: 1
Twisted clay sculpt in the shape of a human head. Emits a voice that says "My beloved." A wistful fetish that imparts voices and words on an eternal journey. Expressions of love are among the most fickle.
Where to Find Prattling Pate "My beloved"
Found in Miquella's Haligtree, east of the Haligtree Canopy site of grace.