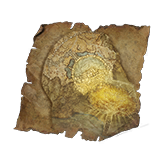 Map: Leyndell, Royal Capital
Game: Elden Ring
Map of Leyndell Capital and environs
Info
Maximum Held: –
Map of the Royal Capital of Leyndell and environs. Leyndell, City of the Erdtree, is a metropolis enclosed by double ramparts. The inner wall remains unbreached to this day.
Where to Find the Map: Leyndell, Royal Capital
Found by entering the Royal Capital Outskirts via the western staircase — the map fragment is near the Outer Wall Phantom Tree site of grace. See walkthrough for details on reaching this map fragment.