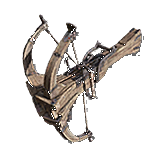 Hand Ballista
Game: Elden Ring
An unconventional ballistic device modelled on a weapon used to besiege castles. Only capable of firing greatbolts. Perfect for reckless acts such as storming a castle or facing an entire army alone.
Weapon Skill: Kick
Attack Type: None
Range: 50
Weight: 10


 Attack Power: Physical 135 Critical 100


 Attribute Scaling:


 Attributes Required: Strength 30 Dexterity 14


 Guarded Damage Negation: 0/0/0/0/0/0
An unconventional ballistic device modelled on a weapon used to besiege castles. Only capable of firing greatbolts.

Perfect for reckless acts such as storming a castle or facing an entire army alone.
Where to Find the Hand Ballista
You can find the Hand Ballista in the Weeping Peninsula, atop the Forest Lookout Tower.