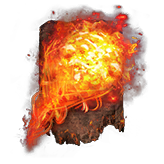 Giantsflame Take Thee
Game: Elden Ring
Hurls massive ball of raging fire
Spell Category: Incantation
Slots Used: 2
FP Cost: 32
Stamina Cost: 43


Attributes Required: Faith 30
One of the incantations that draws directly from the power of the Fire Giants. Hurls a massive ball of raging fire. Charging enhances potency and causes the ball of fire to explode. There is no record of this incantation in common prayerbooks. Only a select few prelates know of its existence.
Where to Find the Giantsflame Take Thee Incantation
Learn from an NPC that teaches incantations after giving them the

Giant's Prayerbook.