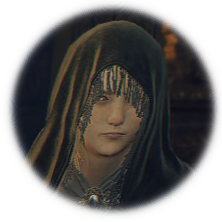 Fia, Deathbead Companion
Game: Elden Ring
This NPC can be met early on in Roundtable Hold, and gives out unlimited Baldachin's Blessings until you begin her quest. Following her quest unlocks one of the game's alternative endings. 
Fia is first found in the Roundtable Hold — allowing her to hold you will put a
Baldachin's Blessing in your inventory (note that while it's in your inventory, it reduces your HP by 5%).
How to Complete Fia's Questline (Age of Duskborn Ending)
You can skip steps 1-4 by setting the Erdtree on fire in the Mountaintops of the Giants. Note that defeating Maliketh will prevent you from starting Fia's questline.
Click a step to see detailed instructions!