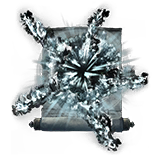 Explosive Ghostflame
Game: Elden Ring
Causes ghostflame explosion that burns wide area
Spell Category: Sorcery
Slots Used: 1
FP Cost (Initial • Held): 36 • 25
Stamina Cost: 45


Attack Power: • Magic 282 • Stamina 230


Attributes Required: Intelligence 42 Faith 30
Sorcery of the servants of Death. Strike the ground with the staff, triggering an explosion of ghostflame that burns the surrounding area. In the time when there was no Erdtree, death was burned in ghostflame. Deathbirds were the keepers of that fire.
Where to Find the Explosive Ghostflame Sorcery
Drops from the Death Rite Bird in the Consecrated Snowfield.