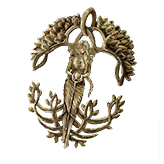 Erdtree's Favor +2
Game: Elden Ring
Legendary talisman. Raises max HP by 4%, max Stamina by 10%, and max Equip Load by 8%.
Weight: 1.5
Legendary
A legendary talisman depicting a special blessing of the Erdtree. Greatly raises maximum HP, stamina, and equip load. It is said that when the Age of the Erdtree began, such blessings were personally bestowed upon their recipients by Queen Marika herself.
Where to Find the Erdtree's Favor +2
Found in Leyndell, Ashen Capital (which is only accessible after defeating Maliketh). To reach the area with the talisman, you'll need to approach Leyndell from the Forbidden Lands — see walkthrough for details on acquiring.