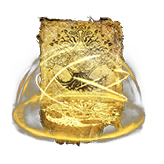 Erdtree Heal
Game: Elden Ring
Vastly heals HP for self and nearby allies
Spell Category: Incantation
Slots Used: 1
FP Cost: 65
Stamina Cost: 50


Attributes Required: Faith 42
One of the ancient Erdtree incantations. Heals a vast amount of HP for the caster and nearby allies. Hold to continue praying and delay activation. The Erdtree once flourished with abundance—yet it was only for a fleeting moment. Such is the course of all life.
Where to Find the Erdtree Heal Incantation
Found in Leyndell, Ashen Capital, in the Queen's Bedchamber.