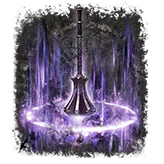 Ash of War: Waves of Darkness
Game: Elden Ring
This Ash of War grants an armament the Magic affinity and the following skill: "Waves of Darkness: Plunge armament into the ground to release three waves of darkness. Follow up with a strong attack to swing the armament in a sweeping strike." Usable on greataxes, warhammers, and colossal weapons.
Where to Find the Ash of War: Waves of Darkness
Received by trading the

Remembrance of the Naturalborn to Finger Reader Enia in Roundtable Hold.