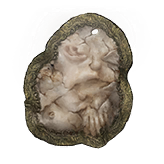 Godskin Swaddling Cloth
Game: Elden Ring
After 4 attacks, further successive attacks restore ~5% of max HP
Weight: 0.9
Sacred cloth of the Godskin Apostles, made from supple skin sewn together. Successive attacks restore HP. The Gloam-Eyed Queen cradles newborn apostles swaddled in this cloth. Soon they will grow to become the death of the gods.
Where to Find the Godskin Swaddling Cloth
Reward for defeating the Spiritcaller Snail boss in the Spiritcaller Cave, in the Mountaintops of the Giants.