Game:
Elden Ring
Content Type:
Gaming News
Date: March 4, 2022
In an official Elden Ring news post today, it's been reported that save data is not always being saved correctly to the Steam Cloud "under certain conditions". When starting up the game, you may get an error message telling you that your local Elden Ring files conflict with the ones stored in the Steam Cloud.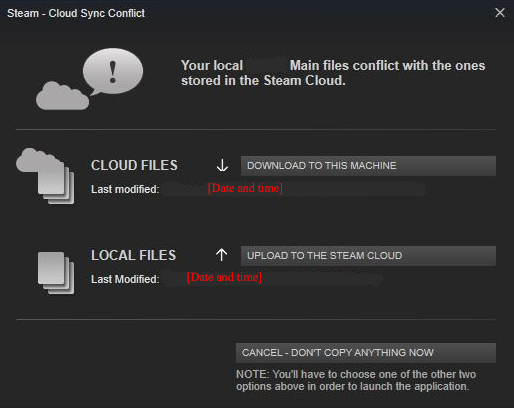 You'll have the choice of downloading the save files from the cloud to your PC, or uploading the save files on your PC to the cloud. What the official announcement doesn't make clear is that unless you want to revert to an earlier save state, you should always download or upload whichever save data files have the more recent date.
The announcement also recommends you back up your save data in another folder. To do so, find your Elden Ring Steam save data here:
C:\Users\username\AppData\Roaming\EldenRing
There will be a folder with a long string of numbers — simply copy that folder and paste it somewhere else. Later on, if you copy this old folder to the Elden Ring save data folder you got it from, you can replace the save data that's there. Your game state will then be reverted to wherever it was when you first copied the save data.
---
If you're having issues with your Elden Ring save data, or if you just want to complain about a boss you're stuck on, do so in the comments below!