Game:
Elden Ring
Content Type:
Gaming Guides
---
This two-phase boss fight is the game's finale, and is therefore appropriately epic. Unlike most two-phase boss fights, Elden Ring's final battle has two separate bosses — you first face Radagon, who you may recognize from the release trailer. Once he's defeated, you'll have to take down the Elden Beast in order to gain access to Marika and the game's ending(s). The fight as a whole is long and difficult, but we've got a number of suggestions to make it much easier!
---
General Tips
Both bosses do Physical and Holy damage, so you can equip the Dragoncrest Greatshield Talisman, Haligdrake Talisman +2, and Pearldrake Talisman +2 to mitigate a significant portion of it.
Faith builds can cast Lord's Divine Fortification to massively mitigate the boss's Holy damage. Builds with at least 10 Faith cast Divine Fortification, which isn't as powerful but still negates a significant portion of the boss's damage. Holyproof Dried Livers are also very effective.
The bosses are very resistant to Holy Damage and immune to Bleed, so choose your loadout accordingly. Radagon is moderately resistant to all other damage types except for Fire, which he takes full damage from. The Elden Beast is resistant to all elemental damage types, but only slightly resistant to physical damage.
Strategy
Prep
Because Radagon and the following boss, Elden Beast, both do primarily Holy Damage, it's worth respeccing to 27 Faith and grabbing the

Finger Seal from the Twin Finger Maiden Husks so that you can cast

Lord's Divine Fortification. If you plan on using the

Mimic Tear, you can optionally commit to a full respec and make Strength your primary damage stat — you'll need at least 30 so you can equip the

Erdtree Greatshield (or the

Haligtree Crest Greatshield if you have it, though it requires 36 Strength). If you really don't want to respec, make sure you can craft

Holyproof Dried Liver (you'll need the

Missionary's Cookbook [6]).
You don't have to use the greatshield, but by summoning the Mimic Tear while you have one equipped, it will be able to stay alive much longer. Even though you aren't going to use it (you can unequip it after summoning), make sure you have the stat requirements for it so that it's effective on your summon. You can also put

Raw Meat Dumplings and the

Uplifting or

Ironjar Aromatics in your Quick Slots — all you need is one in your quick slot when you summon, and your mimic will use both items to keep itself alive. If you prefer to use

Black Knife Tiche or another summon besides the Mimic Tear, you can just want to get the 27 Faith for the incantation and otherwise keep your build the same.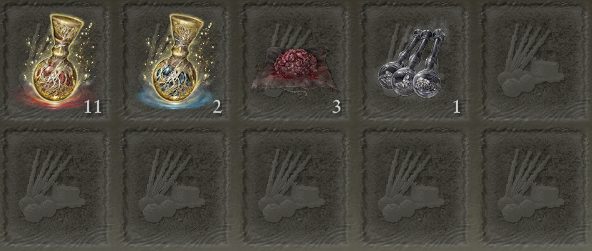 Optionally, since the Elden Beast is fairly resistant to all elemental damage, and Radagon is weak to Fire, you can equip two weapons: one with Fire damage and one with the Heavy affinity (assuming you have the materials to upgrade the Heavy weapon). Use the Fire weapon vs Radagon and then swap to the Heavy weapon vs Elden Beast.

Flame of the Redmanes is a great Ash of War for the fight against Radagon — although after the nerf it no longer staggers as well, he does takes full damage from fire. You can also use it on the Elden Beast, although it takes a ton of hits to stagger it, and it's often hard to get it to stay still for that long.
Finally, note that the Elden Beast is immune to all status effects, so builds designed to inflict Bleed, Rot, etc., will need to respec or otherwise adjust their approach.
Click a section below to expand it and see strategies and tips for fighting each boss!
Since this is the last boss in the game, it's designed for characters that are level 140+, so if you're struggling with this fight and you haven't done all of the game's optional content, you might want to take a break and go clear some of the areas you haven't finished yet.
---