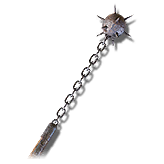 Flail
Game: Elden Ring
Weapon consisting of a bludgeoning head attached to a handle by a chain. The iron ball is spiked and induces blood loss. Blows from this weapon cannot be parried. The charge attack whirls the iron ball around for increased force before striking.
Weapon Skill: Spinning Chain
Attack Type: • Strike
Weight: 5


Attack Power: Physical 109 Critical 100


Attribute Scaling: Strength D Dexterity D


Attributes Required: Strength 10 Dexterity 18


Guarded Damage Negation: 36/24/24/24/24/20
Where to Find the Flail
One flail is in Limgrave, in the Gatefront Ruins. To reach them, head north on the road from the First Steps site of grace. The flail is in one of the two large carts that lie just beyond the ruins.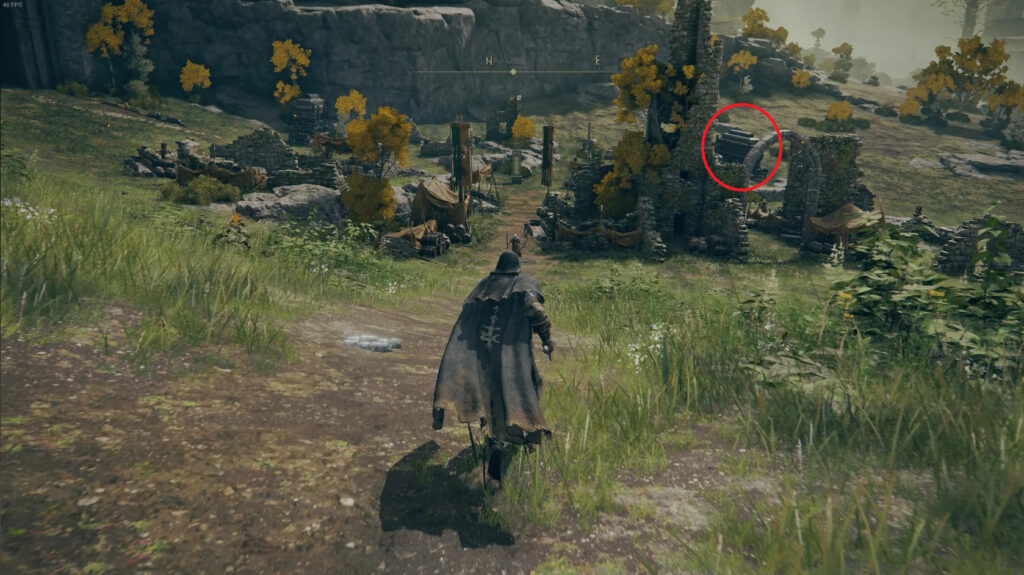 You can get another flail from Corhyn, either by killing him or by finishing his questline. If you kill him, he'll drop the flail, plus his

Bell Bearing and

Robe. If you make it to Crumbling Farum Azula without solving the puzzle in his quest, you'll be able to find his items on his corpse wherever you last saw him. If you complete his questline, you'll find him in Leyndell, Ashen Capital, and you can reload the area he's in to get his items.
---
Attack Power

Stat Scaling

Passive Effects

Damage Reduction (%)

Dagger
Phy
Mag
Fir
Lit
Hol
Sta
Str
Dex
Int
Fai
Arc
Any
Phy
Mag
Fir
Lit
Hol
Bst
Heavy

98
0
0
0
0
56
C
–
–
–
–
Causes blood loss buildup (50)
–
36
24
24
24
24
20
Keen

98
0
0
0
0
56
E
C
–
–
–
Causes blood loss buildup (50)
–
36
24
24
24
24
20
Quality

93
0
0
0
0
56
D
D
–
–
–
Causes blood loss buildup (50)
–
36
24
24
24
24
20
Fire

83
0
83
0
0
56
D
E
–
–
–
Causes blood loss buildup (50)
–
34.2
22.8
27.6
25.2
22.8
20
Flame Art

88
0
88
0
0
56
E
E
–
D
–
Causes blood loss buildup (50)
–
34.2
22.8
27.6
25.2
22.8
20
Lightning

83
0
0
83
0
56
E
D
–
–
–
Causes blood loss buildup (50)
–
34.2
22.8
25.2
27.6
22.8
20
Sacred

78
0
0
0
78
56
E
E
–
D
–
Causes blood loss buildup (50)
–
34.2
25.2
22.8
22.8
27.6
20
Magic

78
78
0
0
0
56
E
E
D
–
–
Causes blood loss buildup (50)
–
34.2
27.6
22.8
22.8
25.2
20
Cold

88
70
0
0
0
56
D
D
D
–
–
Causes frost buildup (66)
Causes blood loss buildup (45)
34.2
24
24
24
24
20
Poison

88
0
0
0
0
56
D
D
–
–
D
Causes poison buildup (66)
Causes blood loss buildup (45)
34.2
24
24
24
24
20
Blood

88
0
0
0
0
56
D
D
–
–
D
Causes blood loss buildup (57)
–
34.2
24
24
24
24
20
Occult

93
0
0
0
0
56
E
E
–
–
C
Causes blood loss buildup (45)
–
36
24
24
24
24
20