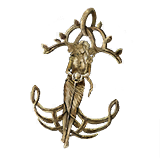 Erdtree's Favor +1
Game: Elden Ring
Raises max HP by 3.5%, max Stamina by 8.5%, and max Equip Load by 6.5%.
Weight: 1.5
A talisman depicting a special blessing of the Erdtree. Raises maximum HP, stamina, and equip load. It is said that when the Age of the Erdtree began, such blessings were personally bestowed upon their recipients by Queen Marika herself.
Where to Find the Erdtree's Favor +1
You get it by looting a chest after defeating Mohg, the Omen, in the Subterranean Shunning-Grounds.