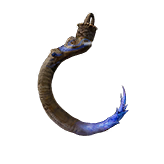 Clarifying Horn Charm
Game: Elden Ring
Raises Focus (resistance to Madness and Sleep) by 90.
Weight: 0.6
An accoutrement worn by the ancestral followers. Raises focus. (Focus governs resistance to sleep and madness.) Said to be a budding horn. The ancestral followers believe that the horns of a long-lived beast continue to bud like antlers, over and over again, until the beast one day becomes an ancestral spirit.
Where to Find the Clarifying Horn Charm
You can find it on the northeastern end of the Siofra River dungeon.