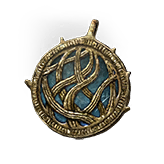 Cerulean Seed Talisman
Game: Elden Ring
Boosts FP restoration from Flask of Cerulean Tears.
Weight: 0.8
A cerulean-colored talisman patterned after an Erdtree seed. Boosts FP restoration from the Flask of Cerulean Tears. The Erdtree was once perfect and eternal, and thus was it believed that Erdtree seeds could not exist.
Where to Find the Cerulean Seed Talisman
Found in the uninverted version of the Carian Study Hall in Liurnia of the Lakes — see walkthrough for details.