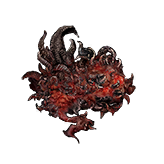 Seedbed Curse
Game: Elden Ring
Curse grown on a body defiled by the Dung Eater
Key Items
Maximum Held: 99
Curse grown on a corpse killed and defiled by the Dung Eater. A tender pox afflicted with omen horns. The Dung Eater cultivates the seedbed curse on corpses. By doing so he prevents dead souls returning to the Erdtree, leaving them forever cursed. One of the most loathsome things found in all the Lands Between.
Where to Find Seedbed Curse
Click a location to see where to find the Seedbed Curse(s) in that area.