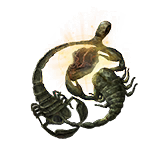 Sacred Scorpion Charm
Game: Elden Ring
Raises the damage of holy attacks by 12% (8% in PvP), but increases Physical damage taken by 10% (15% in PvP).
Weight: 0.8
A talisman carried by assassins who strike unseen. Patterned on a scorpion freshly shed of its exoskeleton, its claws seizing a heart with a blessed glow. Raises holy attack power, but lowers damage negation.
Where to Find the Sacred Scorpion Charm
You get it for defeating the red phantom Anastasia, Tarnished-Eater. She invades the player's world when they approach the Smoldering Church in Limgrave.