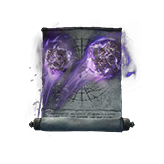 Rock Sling
Game: Elden Ring
Summons rocks from the earth and sends it flying
Spell Category: Sorcery
Slots Used: 1
FP Cost (Initial • Held): 18 • 12
Stamina Cost: 29


Attributes Required: Intelligence 18
One of the glintstone sorceries that manipulates gravitational forces. Pulls a clump of rocks from the earth and sends them flying. This sorcery can be cast while in motion. A gravitational technique studied by the young Radahn. His master was an Alabaster Lord with skin of stone.
Where to Find the Rock Sling Sorcery
You can find it in an underground chest in the Street of Sages Ruins, in Caelid.