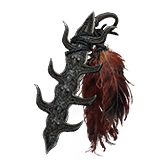 Red-Feathered Branchsword
Game: Elden Ring
Raises attack power by 20% when HP is below 20%.
Weight: 1.4
A talisman adorned with red feathers, once used in ancient death rituals. Raises attack power when HP is low. The heart sings when one draws close to death, and a glorious end awaits those who cling so tenaciously to life.
Increases not only melee weapon damage, but spells and throwing weapons as well.
Where to Get the Red-Feathered Branchsword
Dropped by the Deathbird in Liurnia of the Lakes, found just northeast of the Scenic Isle site of grace. Don't forget that the Deathbirds only spawn during the night!