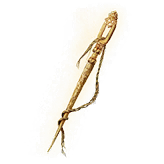 Gold Sewing Needle
Game: Elden Ring
Special sewing needle for demigod attire
Key Items
Maximum Held: 1
Sewing needle made of gold. Unique item made to alter demigod attire. One of the tools brought by Radagon when he entered into marriage with Rennala, Queen of the Full Moon, and joined the Carian line.
Where to Find the Gold Sewing Needle
Found in a chest in eastern Liurnia, in the Church of Vows.