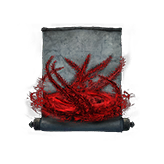 Briars of Sin
Game: Elden Ring
Summons thorns from a whorl of own blood
Spell Category: Sorcery
Slots Used: 1
FP Cost: 9
Stamina Cost: 26


 Attack Power: • Magic 200 • Stamina 70


Attributes Required: Faith 24
An aberrant sorcery discovered by exiled criminals. Theirs are the sorceries most reviled by the academy. Wounds the caster with thorns of sin, creating a spiral of bloodthorns. This sorcery can be cast repeatedly, up to three times. The guilty, their eyes gouged by thorns, lived in eternal darkness. There, they discovered the blood star.
Inflicts Hemorrhage on caster.
Where to Find the Briars of Sin Incantation
Found in eastern Liurnia of the Lakes, southwest of a small fire monk camp.