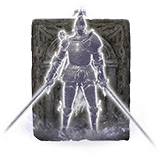 Banished Knight Oleg
Game: Elden Ring
Summons spirit of Banished Knight Oleg
Renowned Ashes.
FP Cost: 100
Ashen remains in which spirits yet dwell. Use to summon the spirit of Oleg, the Banished Knight. One of the two knights known as the Wings of the Storm. After his banishment, he attracted the notice of the Grace-Given Lord and later, having slain a hundred traitors as the Lord's hand, Oleg earned the hero's honor of Erdtree Burial.
Where to Find the Banished Knight Oleg Ashes
You get the Banished Knight Oleg ashes as a reward for defeating the Ulcerated Tree Spirit boss in the Fringefolk Hero's Grave dungeon, in Limgrave.