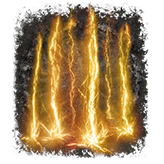 Ash of War: Thunderbolt
Game: Elden Ring
This Ash of War grants an armament the Lightning affinity and the following skill: "Thunderbolt: Skill used by the capital's ancient dragon cult. Raise armament aloft to call down a bolt of lightning. Can be fired in rapid succession." Usable on all melee armaments.
Where to Find the Ash of War: Thunderbolt
Drops from a loot beetle in Leyndell, Royal Capital — see Part 2 of our Leyndell walkthrough for details on acquiring.