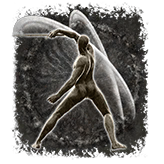 Ash of War: Sword Dance
Game: Elden Ring
This Ash of War grants an armament the Keen affinity and the following skill: "Sword Dance: Quickly close in to perform a series of spinning upward slashes. Follow up with an additional input to finish with a downward slash." Usable on swords, axes, and polearms capable of slashing (colossal weapons and great spears excepted).
Where to Find the Ash of War: Sword Dance
Found on the path that leads to the Road's End Catacombs in western Liurnia.