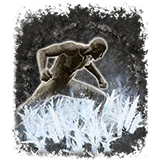 Ash of War: Hoarfrost Stomp
Game: Elden Ring
This Ash of War grants an armament the Cold affinity and the following skill: "Hoarfrost Stomp: Stomp hard to spread a trail of freezing mist on the ground. The mist applies the frost status effect." Usable on all melee armaments.
Where to Find the Ash of War: Hoarfrost Stomp
Found in the lake east of Caria Manor, in Liurnia of the Lakes, from an invisible loot beetle. See Western Liurnia section of walkthrough for details on acquiring.