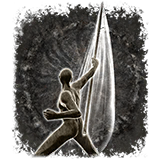 Ash of War: Giant Hunt
Game: Elden Ring
This Ash of War grants an armament the Quality affinity and the following skill: "Giant Hunt: Skill developed for confronting gigantic foes. Step forward from a low stance, carrying the momentum into a sudden upward thrust." Usable on large and colossal weapons capable of thrusting, spears, and twinblades.
Where to Find the Ash of War: Giant Hunt
Reward for defeating the Night's Cavalry boss in northeastern Liurnia of the Lakes.