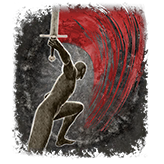 Ash of War: Bloody Slash
Game: Elden Ring
This Ash of War grants an armament the Blood affinity and the following skill: "Bloody Slash: Blood Oath skill granted by the Lord of Blood. From a low stance, coat the blade in your own blood to unleash a rending blood slash in a wide arc." Usable on swords (colossal weapons excepted).
Where to Find the Ash of War: Bloody Slash
You can get these Ashes from the knight on the battlements of Fort Haight in Limgrave.